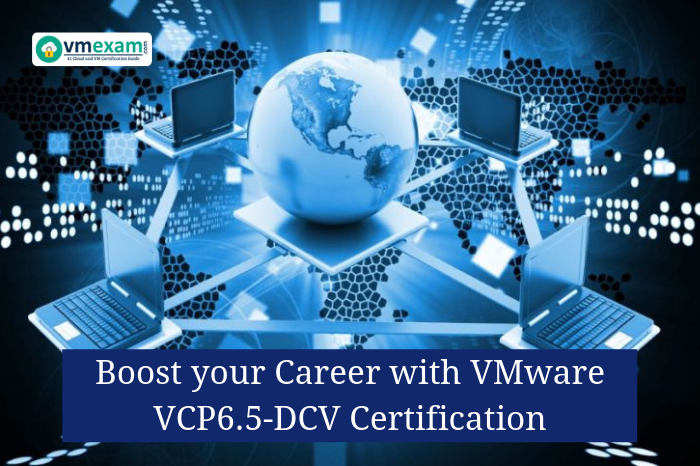 VMware is the leading provider of Cloud computing and platform virtualization. It is also one of the first organizations to virtualize the x86 architecture. Nowadays virtualization is one of the important domains that continually make the whole earth a global village. Society adopts virtualization in their daily tasks. However, we sometimes forget to appreciate the sole vendor that brought virtualization into existence. It goes without doubt that VMware is the prominent global provider that has created the various desktop and server applications that we practice today. Besides, it is also one of the leading providers for many IT certifications that provokes the professionals' knowledge in the IT industry.
This article emphasizes on the getting VMware Certified Professional 6 – Data Center Virtualization (VCP6.5-DCV) certification, which is accepted among the applicants who need to acquire skills to install, configure and work in VMware vSphere6 environment. Still, let's look in more detail on the professional certifications available for Data Center Virtualization. In this category, the certification depends on the product applicants intend to work with: vSphere6 or vSphere6.5. That's what defines the path of taking certain certification and exams.
To achieve any certification, you require to pass an official test that validates your skills. VMware has a professionally designed certification track that you can trace on their official website. To earn VCP6.5-DCV certification, you require to pass two exams VMware 2V0-602, then VMware 2V0-622 exam.
The first exam confirms that you have the basic skills and knowledge to start working with VMware vSphere 6.5 environments. It should be stated that vSphere is the most traditional Vmware Vsphere product that helps to make services virtual. For that, VMware offers certifications for applicants that can give top services working on vSphere 6 platform (previous version) and vSphere 6.5 platform.
The second exam that leads you to get VCP6.5-DCV certification is 2V0-622. It teaches you the profound perception of installation, deployment, and management of VMware vSphere 6.5 environments. This exam is professionally outlined for the beginners who want to obtain knowledge on Data Center Virtualization.
For those applicants who are already VCP6-DCV certified, VMware offers to take the 2V0-622D exam. It has the same syllabus criteria as 2V0-622 but is intended for a different audience. Those, have skills to execute tasks related to vShhere 6 environment. The main goal of this exam is to improve your skills from vSphere 6 to vSphere 6.5.
Besides, the certification is given after doing a complex VMware exam which follows 2V0-622 exam preparation that has been professionally created to fit the context under study in VMware industry. Every perspective set and examined in the exam is based on the following fundamental attributes:
It is a closed-book exam timed to take at maximum two hours.

70 questions are comprising of both multiple and single choice format.

The exam fee of $250 is charged for every applicant.
Having known a distinct and specific path to get certified, it is now the moment to prepare for the exam. Here a few tips are described that would help you pass one of these exams with an excellent score. Take a deep breath and let's discover the better tips to pass together.
1) Study from an Official Study Guide
The most alternative way to get very familiar with the exam objectives is going through the study guide. It is very important to know what you are expected to master before the actual practice of learning begins. I have heard many test takers complaining that 2V0-622 exam was not set as per their expectation just because they failed to learn the objectives of the exam. Let this be your first step once you plan to sit for the exam.
2) Attend all the Lab Sessions
Most of the VMware exams are practical-oriented. This indicates that you are expected to have the knowledge gained in the lab at your fingertips. Besides, it is very simple to understand what you have had hands-on as compared to what you learn theoretically. Suppose you require to configure vSphere6.5 setups in the exam, then you should take a step by step method on how to do it. Therefore, there is no reason to avoid attending lab sessions, yet it is the part examined in the exam.
3) Take practice tests
One way that you can trigger your knowledge is going through the VCP6.5-DCV practice tests that are similar to the actual exam. Many websites tend to give the best practice tests that the candidates can use, but some are invalid. VMexam.com is the robust platform to take practice test. The practice tests on this site are created by experienced professionals and updated regularly.
4) Divide and Learn
It is a very good way to divide the topics you have learned into small and manageable sections. It can be accomplished by dividing the lengthy topics into small and manageable sub-topics that concentrate on the one concept. It will be easy to understand when you read in portions rather than reading a lengthy study guide at once.
5) Explain to Friends
Upon ensuring that you are thoroughly prepared with the key domains, explain the topics with your friends. Try as much as possible to communicate with your friends or colleagues to get a profound understanding of the topics you have already studied.
The Benefits of VCP6.5-DCV Certification
This certification is only for the individuals that are already giving their services in the IT industry. VCP6.5-DCV certification presents a wide range of opportunities for you. Usually, people apply for some other certifications after earning this one, but you can also apply for a job. And we assure you that you'd get a higher pay scale after getting this certification.
The need for the skills that VMware certified professionals own are of high level, thus, acquiring such skills promote them the process of obtaining a good job. The ideal plan to evade the trap of unemployment after studying for so long is getting certified where there are opportunities.
VMware certified professionals can make anywhere from $48,616 to $123,728 per year. The job profiles for VMware certified professionals may include solutions architect, IT manager, senior systems engineer, systems administrator, and IT systems engineer.
Conclusion
The virtualization industry is making very significant impacts on society. The IT professionals are expected to take the edge in getting certified as well as earning this certification since its benefits have been realized. The certification is the only way to qualify the professionals very familiar with their area of expertise, enhance their skills and motivate for future goals.