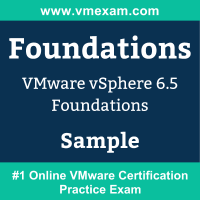 We have prepared VMware vSphere 6.5 Foundations (2V0-602) certification sample questions to make you aware of actual exam properties. This sample question set provides you with information about the Foundations exam pattern, question formate, a difficulty level of questions and time required to answer each question. To get familiar with VMware vSphere 6.5 Foundations exam, we suggest you try our Sample VMware 2V0-602 Certification Practice Exam in simulated VMware certification exam environment.
To test your knowledge and understanding of concepts with real-time scenario based VMware 2V0-602 questions, we strongly recommend you to prepare and practice with Premium VMware Foundations Certification Practice Exam. The premium VMware Foundations certification practice exam helps you identify topics in which you are well prepared and topics in which you may need further training to achieving great score in actual VMware vSphere 6.5 Foundations exam.
VMware 2V0-602 Sample Questions:
01. Which two options are available when migrating a powered off VM and relocating the attached disks?
a) Thick Provision Eager Zeroed
b) Raw Device Mapping Physical Compatibility
c) Same format as source
d) Raw Device Mapping Virtual compatibility
02. What did two requirements for Guest Operating System Customizations?
a) The ESXI host that the virtual machine is running on must be version 5.5 or later.
b) Microsoft Sysprep tools must be installed on the Windows VM to be cloned.
c) VMware Tools must be installed on the virtual machine or template.
d) The guest operating system being customized must be installed on a disk attached as SCSI node 0:0 In the virtual machine configuration.
03. When trying to export the vApp to the OVF, the option is grayed out. What solution allows for the export of a vApp?
a) PowerOff the vApp.
b) The vApp is marked as Hon exportable
c) Logout of the vSphere Client and use the vSphere WebClient.
d) Change the port group where the VMs are connected to.
04. By default, how many login attempts will an ESXi host allow before locking out the account?
a) 7
b) 8
c) 10
d) 5
05. Which three features can be configured during the Initial creation of a cluster?
a) Proactive HA
b) EVC
c) DRS
d) vSAN
06. A VMware vSphere 6.x Administrator is creating an Alarm Action. What are three configurable actions?
a) Shutdown Guest
b) Restart Guest
c) Send a notification email
d) Migrate VM
e) Run a command
07. Which virtual switch load balancing method should be used when teaming network interfaces with EtherChannel?
a) Route based on originating virtual pod.
b) Route based on IP hash.
c) Route based on physical NIC load.
d) Route based on source MAC hash.
e) Use explict failover order.
08. A Long-Distance vMotion migration cannot complete. Which three situations could cause this?
a) The license currently in use for the two hosts is vSphere Enterprise Edition.
b) The round-trip time between the hosts is greater than 150 milliseconds.
c) The virtual machine is configured to use virtual NVMe disks.
d) The vMotion traffic to the destination host is on the default TCP/IP stack.
e) The license currently in use for the two hosts is vSphere Enterprise Plus Edition.
09. Which two options can change the thin provisioned disk to thick provisioned?
a) Use vMotion to migrate the VM to another ESXI host without moving the disks.
b) Use Storage vMotion of the running VM to the same datastore and select Thick Provision.
c) Power off the VM, locate the VMDK disk in the Datastore browser, right-click that and select Inflate.
d) Use Storage vMotion of the running VM to another datastore and select Thick Provision.
10. What three shares are available when configuring a Resource Pool?
a) Custom
b) low
c) Maximum
d) Normal
e) None
Answers:
Question: 01




Answer: a, c

Question: 02




Answer: c, d

Question: 03




Answer: a

Question: 04




Answer: c

Question: 05




Answer: b, c, d

Question: 06




Answer: c, d, e

Question: 07




Answer: b

Question: 08




Answer: a, b, d

Question: 09




Answer: c, d

Question: 10




Answer: a, b, d
Note: Please update us by writing an email on feedback@vmexam.com for any error in VMware vSphere 6.5 Foundations certification exam sample questions