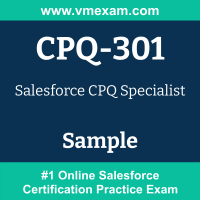 We have prepared Salesforce CPQ Specialist (CPQ-301) certification sample questions to make you aware of actual exam properties. This sample question set provides you with information about the CPQ Specialist exam pattern, question formate, a difficulty level of questions and time required to answer each question. To get familiar with Salesforce Certified CPQ Specialist exam, we suggest you try our Sample Salesforce CPQ-301 Certification Practice Exam in simulated Salesforce certification exam environment.
To test your knowledge and understanding of concepts with real-time scenario based Salesforce CPQ-301 questions, we strongly recommend you to prepare and practice with Premium Salesforce CPQ Specialist Certification Practice Exam. The premium Salesforce CPQ Specialist certification practice exam helps you identify topics in which you are well prepared and topics in which you may need further training to achieving great score in actual Salesforce Certified CPQ Specialist exam.
Salesforce CPQ-301 Sample Questions:
01. Which two objects could a Discount Schedule be applied to and take precedence over the Discount Schedule identified in a Product Feature?
a) Product Option
b) Product
c) Contracted Price
d) Segmented Product
02. How do you ensure that the value a user inputs into a Configuration Attribute is preserved so that the user does not need to re-enter it when reconfiguring the bundle at a later time?
a) Check the "Store Configuration Attribute Values" checkbox in the Steelbrick package settings
b) Add the Configuration Attribute to the ReferencedFields field set
c) Check the "Store Value" checkbox on the Configuration Attribute record
d) Create a field on the Quote Line object that has the same data type and API name as the field you created on the Product Option object
03. On which two objects can an admin assign a Configuration Field Set to change the columns that are visible during configuration?
a) Products
b) Option Constraints
c) Product Features
d) Product Options
04. The Admin at Universal Containers is setting up permissions for internal sales Users. In addition to assigning the Salesforce CPQ User permission set, for which objects do the Users need Read, Create, Edit, Delete permissions?
a) Price Rule, Price Action, Price Condition, Lookup Query
b) Quote Template, Template Content, Template Section, Line Column
c) Discount Category, Discount Schedule, Discount Tier, Term Schedule
d) Quote, Quote Line, Quote Line Group, Quote Document
05. In order to assign a fixed price to a Product based on a range of quantities (which would override the automatic calculation of quantity x unit price) you would use?
a) List Pricing
b) Contracted Pricing
c) Block Pricing
d) Cost & Markup Pricing
06. While making changes in the Quote Line Editor, sales reps have mentioned that clicking the Calculate button after each set of changes is too slow. Management has asked the Admin to Streamline the Quote Line Editor so calculations occur automatically after each change is made.
Which Managed Package setting should the Admin enable to meet this requirement?
a) Enable Quick Calculate
b) Use Inactive Prices
c) Calculate Immediately
d) Use Legacy Calculator
07. A customer is implementing CPQ to support two languages. Which two portions of text can be translated using the Salesforce CPQ localization object?
a) The Feature Name field on the Configure Products page
b) Configuration Attribute picklist values
c) Picklist values in the Product Family field on the Product object
d) HTML Template Content in the Quote document
08. Sales reps at Universal Containers need to know which Quote Lines are Product Options for other Quote Lines within the Quote Line Editor.
Which setting can the admin toggle to organize Quote Lines in the Line Editor based on the Quote Line's position within the bundle?
a) Visualize Product Hierarchy
b) Preserve Bundle Structure
c) Keep Bundle Together
d) Enable Product Option Drawer
09. What are two ways Salesforce CPQ Advanced Approvals support obtaining apprgvat from a group in a single Approval Steps?
a) Approval must be obtained from one group member at a time
b) All group members most approve.
c) Any group member may approve
d) Smart Approvals can exclude group members below the approval threshold.
10. When initially configuring a bundle, all Product Options are visible. A Configuration Attribute combined with a Product Rule is used to hide or show Product Options depending on the value of the Configuration Attribute.
The initial configuration was successful, but a user has reported that upon bundle reconfiguration, all Product Options are visible. The Configuration Attribute retains the value that was set initially. What should the admin do to resolve the issue?
a) Ensure that Apply to Product Options is set to TRUE on the Configuration Attribute.
b) Ensure that Apply Immediately is sc.
c) Change the Evaluation Event of the Product Rule to Always.
d) Change the Evaluation Event of the Product Rule to Load
Answers:
Question: 01




Answer: a, c

Question: 02




Answer: d

Question: 03




Answer: c, d

Question: 04




Answer: d

Question: 05




Answer: c

Question: 06




Answer: c

Question: 07




Answer: a, d

Question: 08




Answer: a

Question: 09




Answer: b, c

Question: 10




Answer: b
Note: Please update us by writing an email on feedback@vmexam.com for any error in Salesforce Certified CPQ Specialist certification exam sample questions