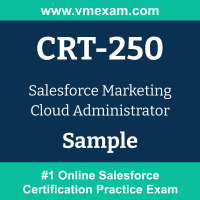 We have prepared Salesforce Marketing Cloud Administrator (CRT-250) certification sample questions to make you aware of actual exam properties. This sample question set provides you with information about the Marketing Cloud Administrator exam pattern, question formate, a difficulty level of questions and time required to answer each question. To get familiar with Salesforce Certified Marketing Cloud Administrator exam, we suggest you try our Sample Salesforce CRT-250 Certification Practice Exam in simulated Salesforce certification exam environment.
To test your knowledge and understanding of concepts with real-time scenario based Salesforce CRT-250 questions, we strongly recommend you to prepare and practice with Premium Salesforce Marketing Cloud Administrator Certification Practice Exam. The premium Salesforce Marketing Cloud Administrator certification practice exam helps you identify topics in which you are well prepared and topics in which you may need further training to achieving great score in actual Salesforce Certified Marketing Cloud Administrator exam.
Salesforce CRT-250 Sample Questions:
01. What are two possible outcomes when "Send as Multipart MIME" is selected during the send process?
a) Open and click activity are tracked in either version.
b) The email will avoid detection by various SPAM filters.
c) A custom text version will be sentwith your HTML email.
d) An auto-generated text version will be sent with your HTML email.
02. A Contact Delete request has been processed for subscribers who have been sent an email. to previously in a northern action did NOT target all contacts in their account and a significant number of contacts which are still remaining. Which two data would still exist in the account?
a) Contact data in sendable data extensions
b) Contact-specific data at the job level
c) Contact data in non-sendable data extensions
d) General tracking data at the job level
03. Setup Assistant provides information and resources for configuring a new Marketing Cloud account. Which two topics does Setup Assistant cover?
a) Setting up the Data Structure
b) Enabling Mobile Connect
c) Configuring Journey Builder
d) Managing the Enhanced SFTP
04. While setting up Marketing Cloud Connect, a Marketing Cloud admin navigates to the Marketing Cloud tab in Sales Cloud to complete the integration. The admin then receives the following error message:
- Insufficient User Permissions.
- You have not been designated as an integrated Marketing Cloud user.
- Contact your system administrator The admin notices the Marketing Cloud for AppExchange Admin option is selected when looking at the user settings.
What action should correct the issue?
a) Apply the administrator and Marketing Cloud Administrator permission sets to user
b) Reset al passwords to force new tokens
c) Apply the Marketing Cloud for AppExchange User option as well
d) Apply the appropriate user mappings in the CRM configuration
05. To prevent retention of stagnant data, Northern Trail Outfitters (NTO) wants any inactive data stored in data extensions to be cleared after 12 months. What action should NTO take?
a) Configure the Enterprise wide default retention to one year
b) Configure the business unit data retention setting to 12 months
c) Apply a row based retention to each data extension as it is created, set to 12 months
d) Set inactive date to be automatically cleared after one year, but is recoverable
06. Which three considerations should be made when setting up Distributed Marketing?
a) Messages can be sent to Contacts, Leads, and Person Accounts.
b) Business users can select any email at time of send.
c) The DM administrator Profile is required to access Distributed Marketing.
d) A journey can be connected to one or more Campaigns.
e) Default options can be set up for the greeting in the email.
07. What are entry source types for Journey Builder?
a) Data Extension, CloudPages, Email List, API Event
b) Data Extension, Email List, API Event, Date Based Event
c) Data Extension, Salesforce Community, GA360, Email List
d) Data Extension, Audience Studio, API Event, Date Based Event
08. A Marketing Cloud admin has been asked to grant full administrator permissions to a new user. Which two standard roles should be selected for the new user?
a) Administrator
b) Marketing Cloud Administrator
c) Marketing Cloud Security Administrator
d) Data Manager
09. When customers use the Marketing Cloud default Profile Center link to unsubscribe it causes users to not receive emails from any other business unit. What could explain this behavior?
a) Data in data extensions corresponding to the customer
b) The user Is getting deleted from the AN Subscribers list
c) The user gets Added to a blocklist that causes an Enterprise level unsubscribe
d) Is removed Business unit unsubscribe setting causes an Enterprise level unsubscribe
10. Which two data structures could be configured to appear in the out-of-the-box Subscription center?
a) Data Extensions
b) Groups
c) Publication Lists
d) Lists
Answers:
Question: 01




Answer: a, d

Question: 02




Answer: c, d

Question: 03




Answer: a, d

Question: 04




Answer: a

Question: 05




Answer: c

Question: 06




Answer: a, b, d

Question: 07




Answer: d

Question: 08




Answer: a, b

Question: 09




Answer: b

Question: 10




Answer: a, d
Note: Please update us by writing an email on feedback@vmexam.com for any error in Salesforce Certified Marketing Cloud Administrator certification exam sample questions