Amazon Web Services (AWS) is a comprehensive, evolving cloud computing platform provided by Amazon. It offers a mix of infrastructure as a service (IaaS), platform as a service (PaaS) and packaged software as a service (SaaS) offerings.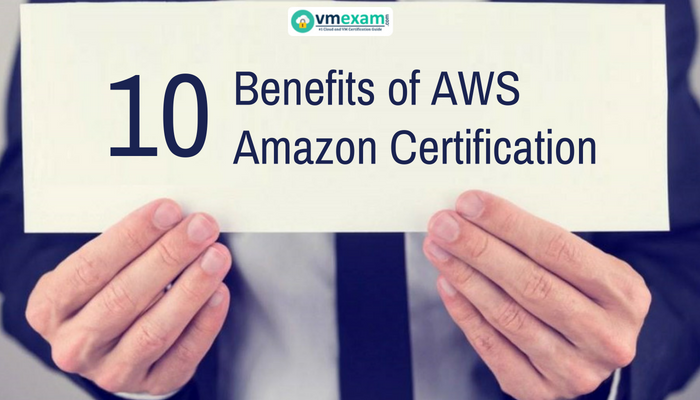 In AWS Amazon Certifications world rules are quite simple, you require to know how to work with the system, or you will not be working at all. To determine how to work with the system, you have a broad understanding at your disposal, and it is up to you implement it. The best way to demonstrate that you know how to work efficiently with Amazon Web Services is to have one of the AWS Amazon Certifications.
Why AWS Amazon Certification

?

Amazon Web Services started a certification program in 2013. In only three years these certifications become one of the best assets that you can have if you want to boost your career. According to IT Skills and Salary Survey salaries of AWS-certified IT pros are increased by 10% compared to last year. The same survey says that AWS Amazon certifications are in the top five highest-paying certifications that you can have.

Each AWS Certification includes strong conceptual knowledge about AWS platform mixed with hands-on experience that you can gain only by using the platform, its components, and services on a daily basis. Being a unique mixture of theory and practice is the secret ingredient which makes this certification highly valued in the IT scene.

An additional logic why AWS Amazon Certifications have a good reputation is the request to re-certify your certification every two years. Re-certification is an excellent move that pushes you to show that you are up to date and that you can keep up with the industry.

On top of that, demand for Certified AWS personnel is in the regular raise and assessing by the AWS market expansion; it will only go up in the year to come. So, you should consider getting yourself one of their Majesties, AWS Certification, if you want to set your career in the fast lane.
The Benefit of Having an AWS Amazon Certification
You could have figured by now that AWS Certification is really valuable things to have. Now you'll see just how beneficial they can be to your career:
Raise in salary: The average yearly salary of an AWS Amazon Certifications holder is between $91,205 and $130,383. These salaries have moved up by 10% since last year, and there is quite a great chance that they will continue growing.

You'll be hot on the job market: With AWS market share of 31% and steady growth of revenue, the requirement for skilled technicians who can work with the system will be declared. You, being one of those experienced professionals, will become quite hot and desirable on the job market. Having these certifications makes you a necessary material instantly.

You'll appear more serious: When having a highly respected proof for your expertise, you immediately seem more severe to the society, especially to your peers from your industry. To be clear is good for the business. It is one of those qualities which tells the others that you're a pro and that you take your job very seriously.

The new level of your expertise: If you want to develop yourself always and stay in the eye of the latest technologies, AWS Certifications are the best way to do that. First, you require to show that you have some level of expertise to get one, and then require to maintain it, with the help of biyearly checkpoints that you want to take. In case you need to go one step further, you can always qualify for another certification and be one of the some who has it all.

AWS Amazon Certifications demonstrate the commitment to a profession: If you're willing to invest in your knowledge, it means that you're committed to a profession. It also says that you'll be prepared to dedicate yourself to the project you're working on and that you will be doing it easily. Commitment to a profession is an excellent signal to all future colleagues, employers, and partners that you're a person that they want in their team.

Hike your self-respect: Self-respect is often a make it or break it circumstance for a successful career. The more confident you are it will be simpler for you to go forward. On the other hand, if you're unsecured and afraid, you will be scared to move on. You're aware that an AWS Amazon Certifications will not make you immediately different from who you already are, but it may be just the thing you want to push you forward.

Open door for new opportunities: High demand for AWS pros in the job market. This means that you can select the particular niche where you wish to work. Certification can open a new world for you and get you to a place you desire. With rising AWS market who understands what new challenging company will want you to help them deploy their next big thing on AWS. It may be new Google, Uber, or even SpaceX, who knows.

Opportunity Expand your network: AWS Certification is an excellent conversation starter, particularly at conferences, meetups, or some other professional gatherings. It gives you an opportunity to develop your network and to meet many different people that you may miss otherwise.

You'll become a part of AWS community: If you are using AWS, you are already part of the community. By getting a certification, you are going one step further making the community stronger. It's like being a part of scout's crew – we're all scouts, just any of us have some badges on their jackets. This appropriate symbol means that you have a specific level of knowledge that gives you certain credibility in the community.

AWS Certifications Are Feasible and Within Reach: Unlike other vendors, Amazon offers a realistic certification path that does not require highly specialized (and expensive) training to start. AWS offers role-based paths with advancing levels of expertise, plus three Specialty certifications.
Role-Based Certifications:
How to Get AWS Certification?
To get your AWS Amazon Certifications, you require to pass the AWS certification exam. All exams are based on the same model, and they all examine your knowledge and skills. AWS is taking great care of the examination process, so rest confirmed that you would be well informed about all the details on their website.
Now, passing the AWS exam is completely up to you. You require to prove that you know and have what it takes to be called an AWS pro. To prepare yourself for the AWS exam you should do some learning and work with AWS continuously. Work will assist you to get your skill set into the right form. Even if you can try to prepare for the exam on your own, it will be far more effective and less time-consuming if you take some lessons and find some support. Such help will give you more room to experiment and practice while letting you study through your work.