VCP-NV 2021 Exam Guide for the First VMware NSX-T Data Center 3.0 Certification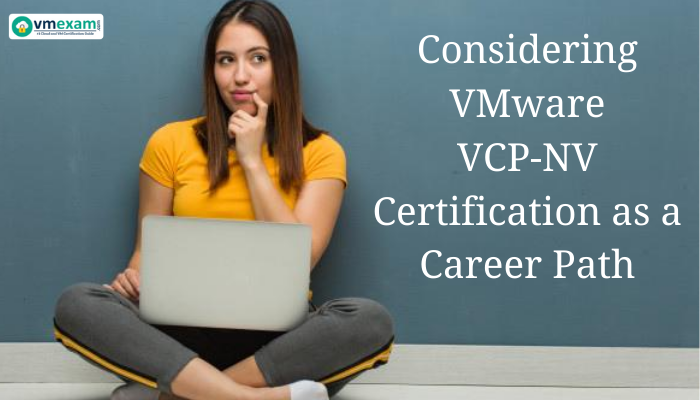 If you are looking to gain your VMware NSX-T Data Center 3.0 certification, this is the best place to start. It is your guide to precisely what you will encounter on the VCP-NV 2021 exam. You must realize and feel comfortable with every area of the exam guide. You may also hear mention to as a blueprint before you take the VMware NSX-T Data Center 3.0 certification exam.
This 2V0-41.20 guide is always particular to the present NSX certification exam, which means you should have it handy whenever you are studying. You can be guaranteed you are looking at the correct VCP-NV 2021 material.
This preparation guide is the purpose of providing information about the objectives covered by this exam, as well as related resources. The material included within this guide is not intended to guarantee that a passing score will be achieved on the exam.
VMware recommends that a candidate completely understands the objectives indicated in this guide and utilizes the resources recommended in this guide were needed to gain that understanding.
Objective of VCP-NV Certification Exam
The VMware Certified Professional - Network Virtualization 2021 (2V0-41.20) Exam candidates on their skills and abilities configuring, installing, and administering a VMware NSX-T Data Center 3.0 environment. Successful candidates show mastery of these skills and abilities.
Intended Audience for VCP-NV Certification
A candidate for the VCP-NV certification has about six months' experience working with NSX implementations. They are typically infrastructure group for networking, data center, and cloud administrators, as well as virtualization specialists who know the relationship between physical and virtual network infrastructures. They are competent in configuring, installing, managing, and troubleshooting VMware NSX-T Data Center 3.0.
The successful candidate will most likely have one or more industry-recognized networking certifications or equivalent experience typically 2-3 years and knowledge with datacentre virtualization.
Objectives Covered in the VCP-NV (2V0-41.20) Exam
It is suggested that candidates have the knowledge and skills necessary to configure, install, and manage an NSX environment before taking the VCP-NV Exam. It is also appropriate that the candidate complete the course requirement before attempting the exam. The course doesn't need to be completed before the exam, but the course requirement must be completed to obtain the VCP-NV 2021 certification.
Before taking this exam, candidates should know each of the following objectives. Along with related tools, the candidate should have experience with, and documentation that carries information pertinent to the aim. The candidate should be familiar with all appropriate product documentation or have a similar skill set.
Tips to Pass VMware 2V0-41.20 Certification Exam
Just like any other exam, preparation is an essential tool, coupled with perseverance, patience, and passion. Remember, VMware certifications are broadly accepted credentials among employers.
So, below are the top ways for you to pass the 2V0-41.20 exam in just one take.
1. Gear up with Hands-On Experience
To make everything simple for you, it is best that you first gear up yourself with valuable knowledge and practical experience with NSX, vSphere, and other related technologies. Aside from a VMware background, candidates are required to enroll in a training course to further pass the VCP-NV voluntary exam.
2. Understand the Exam Format
If you think you have more than sufficient experience, then continue with your preparation and know the exam format.
VMware 2V0-41.20 exam is a proctored 135-minute test with 70 questions to be completed. To pass the exam, you require to get at least 300 points on the scale of 100 to 500. The exam format consists of single and multiple-choice questions.
As a regular practice with most exams, this one also features scored and unscored questions. Only the scored ones are to be reflected in your test performance.
3. Read the Official VMware NSX-T Data Center 3.0 Documentation
To begin your journey for the exam, read and understand the official documentation offered by VMware for the NSX environment. It is the best method to start and speed up your preparation process. Since the 2V0-41.20 exam presents installation, troubleshooting, and administration in a VMware NSX-T Data Center 3.0 environment, there are three official guides to focus on, to understand NSX. You can also take the aid of the VMware vSphere Networking guide, which is a valuable study resource for all other VMware NSX-T Data Center 3.0 certifications.
4. Wade Through Personal Exam Experiences
Personal encounters from real exam takers are also critical study materials for certification exam aspirants. These essential experiences can provide you with a quick study plan and comprehensive study tips so that you can manage your time correctly. There are plenty of VMware 2V0-41.20 exam experiences from successful candidates online, which you can take advantage of.
5. Practice Some Mock Exams on VMExam.com
To get a feel of the real VMware 2V0-41.20 exam, you can find reliable online platforms, such as VMExam.com, which give the latest exam questions and answers. Additionally, you can find bundles that offer exam questions and answers together with practice exams.
On VMExam.com, the questions and answers provided have been checked by IT experts. By answering these exams ahead, you will reveal your strengths and find out any gaps required to be polished. Further, these practice tests assist you to boost your confidence and prepare you mentally for the exam.
Conclusion
Now that many businesses take into account network virtualization into their systems, having a certified person with the best knowledge and skills is genuinely vital. Network virtualization is often used because of its versatility in terms of software computing resources and storage systems. Further, brand safety is always an important feature to take into account as well.
With certification like VMware Certified Professional - Network Virtualization 2021, you do not just build your VMware versatility and enhance your career growth, but you also help in businesses to accomplish their goals and purposes. Through VMware 2V0-41.20, you are guaranteed to have your profile polished and prepared positively!
So, invest your effort in the exam preparation and use VMExam.com's most reliable practice exams and study materials to pass the exam on the first try.