One of the most sought after and exciting certifications today in the IT sector is AWS certifications. There is a more significant number of companies increasing day by day-small or big, and with the growth of these companies and their journey towards the cloud, the market for AWS Certified Cloud Practitioner Certification is growing.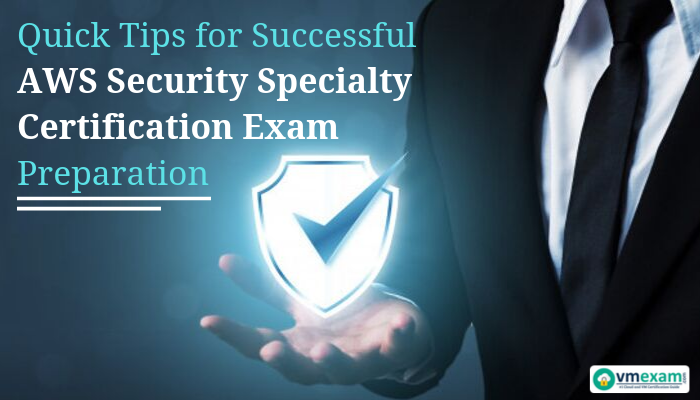 Many certifications range from the level of Associate to Speciality since both the certifications AWS and Security Specialty are the most regarded skills as a thought in the IT sector. If you take up the AWS certification and go for its exam, it will be a new turning point and an accomplishment to your career. Your career will grow to newer heights.
With AWS Certified Security Specialty Certification Exam, you will be able to obtain more excellent knowledge, and your salary will be more than you expect.
Here is a detailed guide as to how you can prepare for the Security Specialty examination and become a qualified developer in the IT market.
An Overview of AWS Certified Security Specialty Exam
A candidate's abilities in technical knowledge, in designing and in implementation of services of AWS is certified through AWS Certified Security Specialty Exam. It gives him/her value from a set of appropriate data. It aids in measuring a candidate's skills to execute AWS Data Services according to practices in architecture. This is a Speciality level exam that requires severe knowledge in concepts of data analytics.
The specific name is AWS Certified Security Specialty. The design of the exam is that you will get multiple choice questions where you have to tick the one right answer amongst four or five presented options. There are numerous response questions, too, which has two or more than two correct answers amongst all five options. The exam duration is almost 170 Minutes without any break. The number of questions is 65. There are 300 USD exam fees.
The Requirements for the AWS Security Specialty exam
There are specific requirements for this exam one has to follow:
You require to have experience of a minimum of two to three years in the handling of Technologies and data in AWS.

Excellent knowledge in services of AWS, as well as the architecture of the same and how one can integrate them along with one another, should be known.

One has to have immense enough knowledge as well as experience in working with the security of AWS and have knowledge of their practices as well.

One has to understand the tips to access and control data to secure it.

The capability to design a proper cost-effective architecture that is scalable is needed to process data accurately.
Preparation Tips for the AWS Security Specialty Certification Exam
We all know that preparation is the key to success, and if you follow it by heart, you will undoubtedly face success. It is essential to be prepared with this exam, and only proper preparation will help you to get good results. The topics you require to cover here and the ways to write answers and how to meet assignments-all are given here.
Start with the Official Guide to AWS Exam
As soon as you begin preparing for an exam, you must understand and believe its objectives. A formal exam guide will help you to start again for the preparation of this exam. This guide gives a definite and clear idea about the exam as in overview, resources used in training, requirements, whitepapers, the blueprint of the exam, etc. Before you visit the AWS official website, it is required to start doing initial preparations.
The blueprint of the exam throws light on the specific subject areas that are covered in the AWS exam and marks their weight too. AWS Certification Questions and Answers are also given here, which is the best way to learn what questions and answers you will have to attempt. This blueprint is the best path to understand the topics that one requires to focus on as you prepare for the exam.
Documentation
A set of information, Amazon Web Services, is a type of paperwork that provides you administration about its services from the fundamental towards the advanced level.
Whitepapers
Recommended by AWS, white papers are an excellent source of knowledge for one. You require to go through them thoroughly and make proper usage of it by taking notes while you study it carefully. It will certainly aid you to run a long way as you begin pre-examination preparations.
Read Recommended Books
Books are the best friends when talking about exams. The more thoroughly you read the book, the more positive you become while preparing for exams.
AWS SCS-C01 Sample Questions
The whole system of AWS is aimed to prepare you adequately for the exam certification, and so it gives you a set of sample questions. Through this AWS SCS-C01 Sample Questions, you will be able to understand what type of question you will go in the exam. There are a fewer number of questions, though. Still, it is advised for you to have a decent look over these to have an idea.
Thus, it is needed for you to have real-life knowledge. It is suggested for you to tie up with Amazon Web services and have their free tier account. You will quickly have access to all these services for over a year without even bearing any cost.
AWS SCS-C01 Practise Tests
The more you obtain practical knowledge, the more it is best for you. There is an infinite number of AWS Certification exam questions free online. To passing the AWS exam, it is suggested for you to know SCS-C01 Exam Crack by having these tests done from the best providers. A real-life experience of how the questions will be will help you in more reading. In AWS SCS-C01 Certification Practice exams, there are a lot of questions that are associated with practical life.
Few More Tips and Tricks in AWS Exam
It is important to have hands-on experience for you to face practical questions.

Practise test and training is very much required to get prepared for this exam.

Use the social media platforms to get SCS-C01 Exam questions Free. People who are experienced with this AWS exam will be able to guide you too with their feedback. It is required to clear your doubts earlier to avoid any last-minute rush.

Proper experience on Security Specialty will help your career to shape in the right way. Only having SCS-C01 Questions will never improve. It is a higher range of examination that needs you to be a pro in this subject.

It is usually the subject experience and knowledge of the same upon which it pays to depend. You will be a lucky one to get an unusual combination of AWS and Security Specialty, which is a particular high system in the IT industry today.
Conclusion:
Although it is tough to crack this SCS-C01 exam, it is not impossible too. This AWS Security Specialty exam is tough and requires you to have knowledge and experience earlier so that you can face stricter situations in the Security Specialty exam. It is also said that you take guidance from an expert who is competent and belongs to the AWS field of knowledge. Sit for the AWS Security Specialty exam only when you feel that you are confident enough.
Best of luck for the AWS Security Specialty Certification Exam...!!