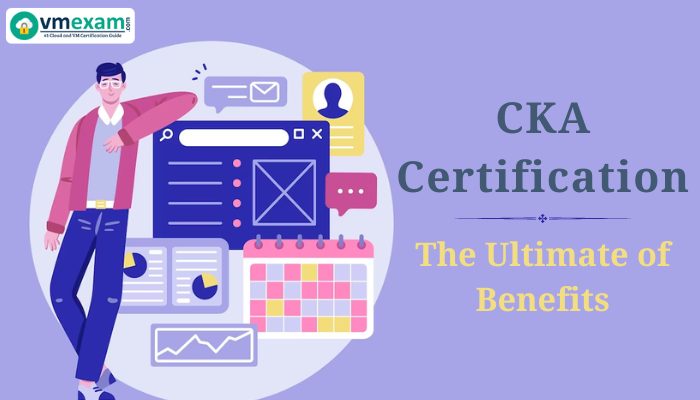 With the growing demand for cloud-native architecture, Kubernetes is becoming a de facto skill set for software architects, developers, and system administrators. While there are various mechanisms to learn Kubernetes, certification such as the Certified Kubernetes Administrator (CKA) program by The Linux Foundation helps to provide the direction, curriculum, and knowledge required for real-world experience.
What Is the CKA Certification?
The CKA certification is a globally recognized credential that validates an individual's skills and knowledge in Kubernetes administration. Kubernetes is an open-source container orchestration platform that helps organizations automate containerized applications' deployment, scaling, and management. The CKA certification is awarded to individuals with demonstrated proficiency in administering Kubernetes clusters.
Why Get CKA Certified?
The CKA certification is designed to ensure holders have the skills, knowledge, and competency to execute the responsibilities of Kubernetes Administrators. Certification holders should be comfortable with the following:
Creating Kubernetes environment

Troubleshooting any issue in the Kubernetes environment

Configure Certificates and TLS

Hardening their Kubernetes environment

Dept Knowledge of different Kubernetes resources
CKA and CKAD are both performance-based certifications, so the exam also designs to see how quickly you can solve the questions in the actual environment.
Know What Is Included in the CKA Exam?
CKA tests whether candidates have enough knowledge and skills to be K8s administrators. You must know what skills and abilities the CKA expects the candidates to explain in the exam so that you can align your daily practices with these requirements accordingly during preparation.
Be sure to read the CNCF CKA exam curriculum to understand what's included in the CKA exam. The curriculum may change a little bit along with every K8s release; here is the outline of the CKA exam:
30%: Troubleshooting

25%: Cluster Architecture, Installation & Configuration

20%: Services & Networking

15%: Workloads & Scheduling

10%: Storage
Why Is the CKA Certification Important?
1. Industry Demand
As Kubernetes continues to grow in popularity, the demand for skilled professionals in Kubernetes administration has skyrocketed. The CKA certification can help you stand out in the job market and increase your chances of landing a high-paying job in the tech industry.
2. Demonstrated Expertise
Obtaining the CKA certification demonstrates your expertise in Kubernetes administration, which can help you gain the trust and respect of your colleagues and employers. It also gives you a competitive edge over other professionals in the same field.
3. Continuous Learning
The CKA certification is not a one-time achievement but requires continuous learning. By keeping up with the latest developments in Kubernetes administration, you will be better equipped to handle new challenges and take advantage of new opportunities.
Which Are the Benefits of CKA Certification?
The Certified Kubernetes Administrator (CKA) certification has become increasingly popular among IT professionals due to the widespread adoption of Kubernetes as the leading container orchestration platform. A CKA certification can have numerous advantages for individuals and organizations.
Kubernetes is an open-source platform for automating containerized applications' deployment, scaling, and management. Due to its popularity, it has become an essential tool for DevOps engineers, system administrators, and developers. The CKA certification validates an individual's knowledge and expertise in Kubernetes for container orchestration, making them more credible and valuable in the job market.
1. Increased Credibility and Recognition with CKA Certification
A CKA certification demonstrates an individual's expertise and proficiency in Kubernetes, which is recognized globally. Obtaining this certification signifies that the individual has a deep understanding of Kubernetes and can use it to deploy and manage containerized applications. This certification proves an individual's proficiency, making them more credible and valuable to potential employers.
2. Better Career Opportunities
A CKA certification can open doors to better job opportunities and higher salaries. Kubernetes is being widely adopted across industries, and there is a high demand for professionals who are proficient in it. This certification can help individuals stand out, leading to better job opportunities and career growth.
3. Enhanced Knowledge and Expertise
Preparing for the CKA certification requires extensive knowledge and hands-on experience with Kubernetes. The certification process includes a rigorous exam that tests an individual's ability to deploy, configure, and manage Kubernetes clusters. As a result, individuals preparing for the certification gain a deeper understanding of Kubernetes and become experts in container orchestration.
4. Competitive Advantage
The IT industry is highly competitive, and a Certified Kubernetes Administrator certification can give individuals a significant advantage. The certification demonstrates that the individual has a specific skill set and can perform complex Kubernetes tasks. This can be a crucial differentiator for individuals looking to secure a job or advance their careers.
5. Better Collaboration and Networking
Certified Kubernetes Administrator certification holders become part of a global community of Kubernetes experts. This community allows individuals to collaborate and network with others with the same interests and expertise. Being part of this community can provide individuals access to valuable resources, information, and knowledge, leading to better collaboration and networking opportunities.
Conclusion
Obtaining a CKA certification can be highly beneficial for individuals who want to establish themselves as experts in Kubernetes. It can provide individuals with increased credibility and recognition, better career opportunities, enhanced knowledge and expertise, competitive advantage, and better collaboration and networking opportunities.