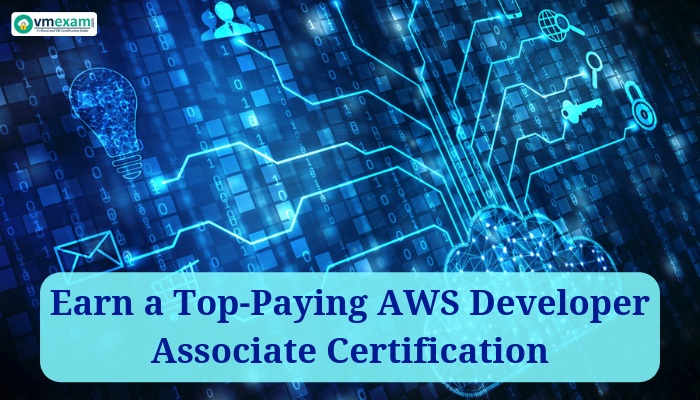 Amazon Web Service (AWS) is a Cloud Computing platform, and by name, we can understand that the IT Giant Amazon has developed this architecture. Amazon has designed and built the infrastructure for cloud computing in a form that it can grow itself with time.
As the demand for Cloud Computing is increasing day by day, so does the value of AWS is growing accordingly.
AWS is currently leading the Cloud market with its highest share-value and dominating other cloud computing IT giants. IT market professionals are now going towards AWS cloud computing. Amazon has developed and launched a lot of certification programs to legitimize the AWS program, depending upon the interest, experience of an IT employee, for AWS.
Let's take an overview of step by step guide for AWS Developer Associate Certification.
Overview of the AWS Developer Associate Certification Exam
AWS is leading the IT market since 2017. The Certification at a different level from AWS is essential to sustain and support in AWS technology.
In cloud computing, AWS Developer Associate Certification is required, where this would explain the technical expertise of a candidate opting for AWS-CDA certification exam to develop and manage Amazon cloud computing. The AWS Developer Associate certification exam is similarly more straightforward Certification than any other AWS Certification Exam.
AWS Developer Associate Certification is a validation program created by Amazon for a varying level of expertise practitioner for understanding the design to develop and deploy the architecture according to its demand.
Full name: AWS Developer Associate (AWS-CDA)

AWS Exam Code: DVA-C01

Exam Price: 150 USD

Duration: 130 minutes

Number of Questions: 65

Passing score: 720/1000
Eligibility Requirements for AWS Developer Associate Certification
The AWS Developer, Associate Certification program, is undoubtedly an intermediate course in the scale of AWS Exam hierarchy.
It is natural and fundamental for you if:
You are already in the path of cloud computing and has experience of more than 1-2years.

You have depth and knowledge of AWS cloud computing and can design and develop the program by its architecture and also can deploy it.

You have knowledge and opinion of one or more programming languages.
Though these are not requirements for AWS, with proper understanding and development experience, you can regularly opt for any other certification in the parallel hierarchy according to your interest.
AWS Developer Associate Certification Exam Preparation Tips
On average, it requires around 80 hours to study for each certification. One must factor in how this will fit within a working life and other responsibilities. It is also reliant on your current knowledge level and skill and the type of certification for you are studying.
Proper guidance and understanding can quickly guide you to clear the Certification Exam successfully.
Free Tier:
To prepare for AWS Developer Associate Certification, you require to register with AWS for Free Tier. Daily hands-on practice is needed for AWS Developer Associate Certification. It is the best practice for you to get familiar with all the functions of AWS to prepare and crack the exam easily.
AWS Developer Associate Exam Guide:
Amazon has designed the course and uploaded the guidance in a PDF. You can use the AWS Developer Associate Exam Guide as a reference to prepare yourself for the exam.
The topics that you need to cover are also given. The weight has been provided by the breakdown of the questions that want to be covered. So you need to go through the Exam guide properly.
Sample Questions:
If you are in constant practice and following the step by step study guide by VMExam.com, then this topic will be helpful to mastering the Exam Guide. Amazon always uploads the sample questions for the preparation on their website.
White Papers:
It is highly recommendable, especially which is recommended by AWS. Reading White Papers will give you a lot of relevant information regarding the services provided by AWS.
Information about the know-how of the services, it is easier to prepare for the AWS Developer Associate Certification exam.
A few recommended White Papers are listed below.
Architecting on AWS

AWS Security Best Practices

Backup and recovery approaches using AWS

AWS Security Checklist

Amazon Web Services: Overview of Security Processes
FAQ:
Reading FAQs will improve your conclusion of the topics you are confusing around. The FAQ section of AWS is bundled with commonly asked questions. The answers might provide you a clear understanding of your doubts.
Online Practice Test:
With online practice tests which will help you to improvise all the self-learning AWS online practice test materials. These AWS-CDA mock tests will assist you in judging your technical strengths and weaknesses.
Accordingly, you can prepare yourself before scheduling the final exam for AWS Developer Associate Certification. You can boost up your level of confidence by taking a many online practice test.
Boost Your Career with AWS Developer Associate Certification
AWS is a very versatile technology. It is active and dynamic by its architecture. Amazon has developed all its facilities from the essential framework to an available database. Also, it has been upgraded together with small changes every other day.
It will sustain and change more to grab the whole IT industry by its architecture shortly. So, if you want to improve with future changing technology, it is the best option to pick.
AWS will transfer more, and as only Amazon is recognizing getting certified by themselves. In the future, more and more IT companies will hire employees who are certified by Amazon only for global certification program.
In this way, AWS Developer Associate Certification not only will boost your career but also give you opportunities to spread your wings and fly.