VMware deals certifications in cloud management and automation, data center, and network virtualization, and desktop and mobility. This certification guide will help you get earn VMware's certification and develop your career path. The certification process requires purpose, confidence, and a solid support system. Your support can come from your employer, your family, or any other source that believes in you. Employers have always been supportive of my certification attempts. Here is the real value add to a business when their employees gain new skills and validate that they have mastered them.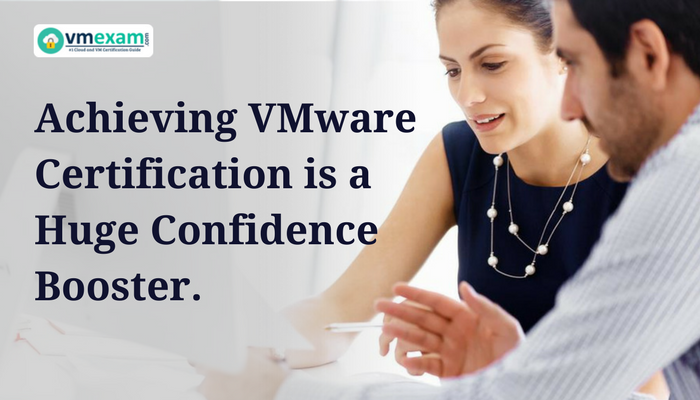 An Overview: VMware Certification
IT professionals in virtualization space, those who are serious about taking their careers forward, attaining VMware certifications is a must for them. VMware has been constantly upgrading its certifications for the past two years. This proves refreshing for organizations and individuals to match new technologies. Recently, they have launched their products for Version 6. VMware Official training has become all the more important as a process of achieving VMware certifications to be a part of a team that reduces downtime and achieves the business outcome more efficiently with instructor-led classes, which seems to be one of the main VMware certification benefits.
There are plenty of VMware Certification benefits, owing to the high demand of Cloud and Datacenter Virtualization technology requirement in the industry. VMware offers certification and training programs in Cloud Management, Automation, Data Center, Desktop, and Mobility. Some of the VMware certification benefits are best virtualization jobs, upon passing credentials, recognition among clients, employer and peers, increased earning potential and career avenues and global demand. These certifications also improve your most well-paid IT career path in this technology.
How to Become VMware expert in Organization?
VMware Certification benefits are showing in the enterprises as well. VMware technology has been catering to streamline IT operations across general IT infrastructure, data center in the cloud and on mobiles by creating server and desktop virtualization software. Which in turn is increasing the demand for IT professionals to earn VMware badges. Also, the VMware flagship data center platform – vSphere is gaining tremendous popularly including other products such as – Workstation Pro, Horizon 7.7 and the vRealize Suit, Fusion. Upon analyzing the recent reports, it has been found out that organizations are standardizing on VMware solutions to propel efficiencies in IT infrastructure. So becoming your organization's go-to VMware Expert, besides increasing your knowledge and skills, will give you an edge over peers and colleagues, which in the long run can boost your IT career further. Improve operations with unparalleled product knowledge.
The recent announcement for VMware products in Version 6 organized the VMware certifications into four categories, as mentioned below:
Cloud Management and Automation

Data Center Virtualization

Desktop and Mobility

Network Virtualization
Associate certifications typically require passing a single exam to achieve certification. Candidates for Professional and Advanced Professional certifications must either take a training course or earn a prerequisite certification and pass an exam (a few certifications require two exams). To obtain a VCDX, candidates must earn two VCAP credentials.
Achieving a VCDX certification is more involved. Candidates must first obtain multiple prerequisite certs, then create a production-ready VMware solution and defend it in front of a panel. Currently, only one Design Expert credential is available, in the Data Center Virtualization track.
VMware requires professional-level and higher certification holders to recertify every two years to maintain their credentials.