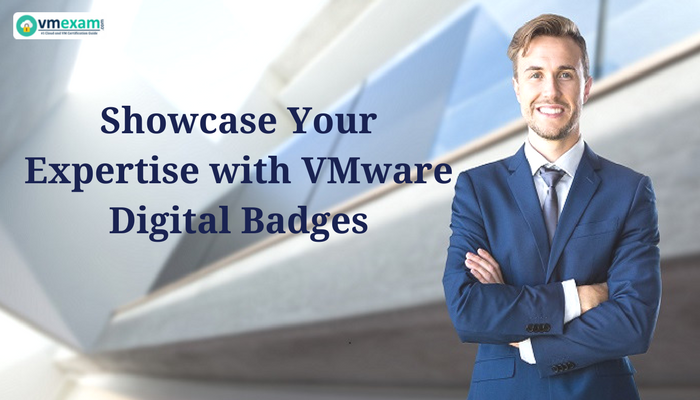 VMware skills are recognized, respected and valued globally throughout the IT industry, yet seamlessly communicating your abilities and achievements can be challenging. Now, when you earn a VMware certification, complete an IT Academy challenge, or contribute to the certification program, you can easily and quickly share verified proof wherever and whenever you choose. The Digital Badge is an image that when clicked on displays verified information such as issue date, what it took to earn the badge and more that reflects the steps you undertook to earn your skills.
VMware Badges are:
You can share any digital platform: social media, email signature, embedded in your resume, or the web.

This badges are authenticated by VMware and trusted by employers, colleagues and industry peers.

This is a new way to enter Labor Market Insights to find out who's looking for VMware expertise

A single source that unites your credentials and provides a complete overview of your skills.
How You can use VMware Digital Badge Works:
You will receive an email informing you to claim your badge at our partner Acclaim's website.

Click the link in that email.

Login or Create an account on the Acclaim site and confirm your email.

Once you create or log into your account, you'll be taken to a page that allows you to maintain the badge.

Now start sharing it on social media sites (like Facebook, Twitter, and LinkedIn), embed it on your website, or email it.
Different VMware Badges
Each badge is independent. Whether a certification, skill or another achievement, your VMware badges tell the world you are VMware Certified.
Certification Badge
Certification badges are given to individuals who complete the requirements associated with selected VMware products, solutions or advanced/expert certifications. These badges are awarded to IT professionals who achieve and demonstrate an exceptionally high level of understanding of the topic represented by the certification.
Milestone Badge
Milestone badges are allotted to individuals who earn a specific set of badges. The Milestone Badge represents a collective achievement that acknowledges higher-level experiences and skills.
Specialist Badge
Specialist badges formed on VMware certifications and issued to technical experts who understand select VMware technology architectures and feature sets and can leverage best practices and advanced capabilities to optimize their VMware environment.
Co-Skilled Badge
Co-skilled badges are granted to individuals who complete the requirements associated with the technology, solutions, or advanced/expert certifications of VMware and select partners.
Knowledge Badge
Knowledge badges show that individuals have participated, understood and integrated some VMware Education in a meaningful way.
Skill Badge
Skill badges show developing competencies and a broad understanding of an individual's capabilities and accomplishments.
Contributor Badge
These badge-earners are recognized for their knowledge of a specific VMware product or solution area. They prove that professionals can work within defined processes and collaborate with other team members to meet established industry standards in order certify. Contributor Badge-earners contribute necessary time and work in the development of VMware Professional Certification exams.
Click Here for VMware Badge List.