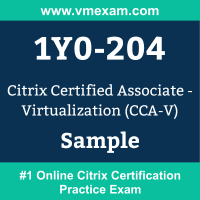 We have prepared Citrix Virtual Apps and Desktops 7 Administration (1Y0-204) certification sample questions to make you aware of actual exam properties. This sample question set provides you with information about the CCA-V exam pattern, question formate, a difficulty level of questions and time required to answer each question. To get familiar with Citrix Certified Associate - Virtualization (CCA-V) exam, we suggest you try our Sample Citrix 1Y0-204 Certification Practice Exam in simulated Citrix certification exam environment.
To test your knowledge and understanding of concepts with real-time scenario based Citrix 1Y0-204 questions, we strongly recommend you to prepare and practice with Premium Citrix CCA-V Certification Practice Exam. The premium Citrix CCA-V certification practice exam helps you identify topics in which you are well prepared and topics in which you may need further training to achieving great score in actual Citrix Certified Associate - Virtualization (CCA-V) exam.
Citrix 1Y0-204 Sample Questions:
01. Which FlexCast delivery model has the lowest Total Cost of Ownership (TCO)?
a) Published Applications
b) Hosted VDI(Random/Non-Persistent)
c) Remote PC
d) VM-Hosted Applications
02. A Citrix Administrator is troubleshooting an issue in which users cannot enumerate applications. Which layer should the administrator look at to troubleshoot resource presentation to users?
a) Control
b) Access
c) Resource
d) Compute
03. Which SQL permission is required to create a Virtual Apps and Desktops Site database through the Citrix Studioconsole?
a) dbcreator
b) sysadmin
c) setupadmin
d) Serveradmin
04. What happens to the differencing disk of a Random/Non-Persistent desktop machine following a restart in a Desktops 7.1x site running on Citrix Hypervisor?
a) It will be updated from the base image
b) It will be deleted
c) It will be reset for new use
d) It will be synchronized with the attached Personal vDisk
05. A Citrix Administrator is preparing a Desktops Printer policy to allow every user to map only one of the locally installed printers.
How can the administrator accomplish this task?
a) Enable the "Auto-create local (non-network) client printers only" policy.
b) Enable the "Disable LTP ports" policy.
c) Install only native printer drivers to the Desktops virtual machines.
d) Enable the "Auto-create the client's default printer only" policy.
06. Which two FlexCast models are suitable for applications that are NOT multi-user compatible?
a) VM Hosted applications
b) Hosted shared desktops
c) Hosted VDI
d) Published applications
07. A Citrix Administrator needs to reduce supply overhead by limiting users' printing sources. The administrator needs to stop automatic creation of all client printers in a session and map printers based on the floor of the building from which the user's session connects.
Which two policies should the administrator configure to complete this task?
a) Auto-Create Client Printers
b) Direct Connections to Print Servers
c) Printer Properties Retention
d) Session Printer
08. After a user logs on to StoreFront and is authenticated, which service is responsible for enumerating the user's published resources?
a) Citrix MPSF Agent service
b) Host service
c) XML service
d) Configuration Synchronization service
09. Which Citrix hotfix will a Citrix Administrator install on the virtual desktop OS machines in a Desktops environment?
a) GPCSExt
b) XDPoshModule
c) ICATS
d) ICAWS
10. An organization needs fewer printers created during session startup, so that sessions start faster. Which policy allows the Citrix Administrator to achieve this goal?
a) Printer Properties Retention
b) Client Printer Redirection
c) Auto-Create Client Printers
d) Direct Connections to Print Servers
Answers:
Question: 01




Answer: a

Question: 02




Answer: b

Question: 03




Answer: b

Question: 04




Answer: c

Question: 05




Answer: d

Question: 06




Answer: a, c

Question: 07




Answer: a, d

Question: 08




Answer: c

Question: 09




Answer: d

Question: 10




Answer: c
Note: Please update us by writing an email on feedback@vmexam.com for any error in Citrix Certified Associate - Virtualization (CCA-V) certification exam sample questions