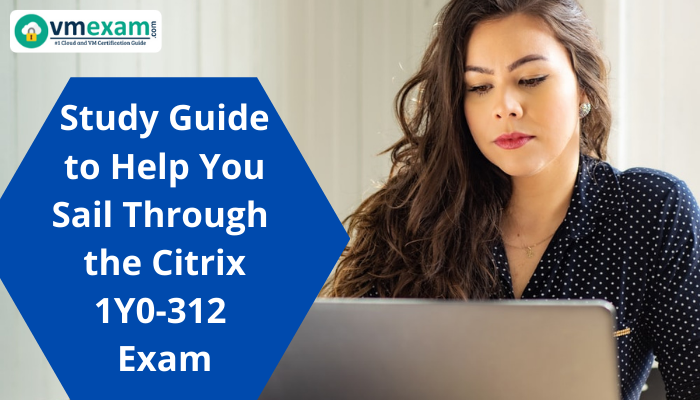 Are you worried about passing the Citrix 1Y0-312 Exam? The study guide and practice test is here to get you rid of your worries. Go through the article to gain more knowledge on the certification.
What Is the 1Y0-312 Certification All About?
The 1Y0-312 exam is a combination of the most helpful topics in supporting and managing the Citrix Virtual Apps and Desktops 7 in an on-premises situation or Citrix Cloud. The 1Y0-312 certification is for candidates who want to expand their Citrix Virtual Apps and Desktops skills to a different level.
Who Should Take the 1Y0-312 Exam?
The 1Y0-312 exam is beneficial for those who manage and support complex environments and may work on various job titles such as:
Citrix Partners

Desktop Virtualization Engineers

Desktop Virtualization Consultants

Citrix Engineers

Systems Administrators
Is There Any Exam Retake Policy?
An aspirant must wait 24 hours from his original 1Y0-312 exam appointment time before registering and retaking the exam. If the candidate already takes the second attempt and any attempt after that, he must wait 14 calendar days to retake the 1Y0-312 exam.
What Knowledge and Skills Are Needed to Take the 1Y0-312 Exam?
The candidates must gain knowledge of the following before taking the 1Y0-312 exam:
Skills of how the following Windows components integrate with Citrix technologies:
Active Directory Certificate Services

Domain Name System (DNS)

Group Policy Objects (GPOs)

Windows Server 2016

Knowledge of SQL 2012 R2 and newer

Knowledge of SQL clustering and mirroring

Active Directory Domain Services

Dynamic Host Configuration Protocol (DHCP)

NTFS Permissions

Windows Authentication and Authorization

Knowledge of IIS

Knowledge of Microsoft licensing

Roles and features of Windows Server 2016

Knowledge of Microsoft Windows Operating Systems

Windows 10

Knowledge of shared storage configuration and management Contributors & Marks

General networking skills (i.e. IP Address assignment/Subnets/VLANs)

Knowledge of hypervisors
What Product Knowledge Could be Beneficial to Take the 1Y0-312 Exam?
Citrix suggests that candidates should have at least six months of experience with the following technologies, products, and related topics covered in the exam:
Citrix Gateway

Virtual Apps and Desktops 7 Build

App Layering Build

StoreFront Build

Workspace Environment Management Build

Citrix ADC and Citrix Federated Authentication Service Build Machine Creation Services & User Profile Management
What Is the 1Y0-312 Exam Preparation Strategy?
Getting Trained Is Vital:
Citrix Education suggests that candidates should gain hands-on experience with Citrix Virtual Apps and Desktops 7 Advanced Administration before taking the exam. One of the best processes to do this is by taking a formal Citrix training course. The training course offers knowledge for set up scalability, redundancy, and security configurations. A candidate learns from the experts through five days of training.
Make A Plan to Cover the 1Y0-312 Syllabus Topics Smoothly:
The candidate's grasp on the syllabus topics should be high to answer 71 questions within 90 minutes. Look for valuable resources online or offline and cover the topics from the core.
Make It Easy with A Schedule:
Your exam preparation approach should be very simple if you make a schedule and follow it rigorously. Every candidate must take enough time for exam preparation and keep a gap of at least two months before taking the 1Y0-312 exam. Mention in a chart what you want to study on a daily basis to cover the syllabus within two months.
Keep Writing Down Important 1Y0-312 Exam Points During Study:
A candidate should study for two to three hours daily and create notes out of the important topics. Making notes help a lot at the end of your preparation while doing revision. You get all your materials ready in one place, and time is saved during revision.
Try to Solve and Learn from Sample Questions:
Sample questions are one of the best resources to learn from. If you want to enhance your knowledge, avail a different set of sample questions and solve them or learn from them.
Assess Yourself through 1Y0-312 Practice Test:
Rushing to the exam hall without assessment could be a loss. A candidate must keep using 1Y0-312 practice tests to assess his preparation level. You can get valuable insights into your preparation through the result section. You might face difficulty answering some sections, but stay confident and review those sections for better scores next time.
Reasons and Benefits to Earn the 1Y0-312 Certification:
Citrix Certifications like the 1Y0-312 is counted as the benchmark for productiveness, effectiveness, marketability, and competitiveness among organizations. You can make a lucrative career out of the certification. So, the need to get certifications is observed in high demand among IT professionals. Many organizations look for Citrix expert professionals; hence, at this point, taking up a career in Citrix is an excellent preference.

Earning certification is highly linked with salary. The CCP-V or the 1Y0-312 certification is counted as one of the highest-paying certifications that focuses on Citrix's flagship XenDesktop application and delivery platform.

Earning the 1Y0-312 certification crucially would boost the professional credibility of a candidate and allow for huge opportunities within the ever-growing IT industry.

Companies and IT professionals highly acknowledge the 1Y0-312 certification to meet client demands and avoid skills gaps.
Bottom Line:
Grab the 1Y0-312 certification to gain your virtualization knowledge with Citrix and carve the path for greater opportunities. The 1Y0-312 certification has proven great efficiency in offering competitive and effective solutions, thus offering a stable career. Therefore, don't miss out on the chance and grab the certification.