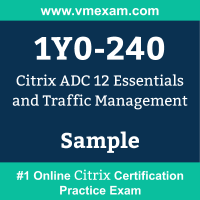 We have prepared Citrix ADC 12 Essentials and Traffic Management (1Y0-240) certification sample questions to make you aware of actual exam properties. This sample question set provides you with information about the CCA-N exam pattern, question formate, a difficulty level of questions and time required to answer each question. To get familiar with Citrix Certified Associate - Networking (CCA - N) exam, we suggest you try our Sample Citrix 1Y0-240 Certification Practice Exam in simulated Citrix certification exam environment.
To test your knowledge and understanding of concepts with real-time scenario based Citrix 1Y0-240 questions, we strongly recommend you to prepare and practice with Premium Citrix CCA-N Certification Practice Exam. The premium Citrix CCA-N certification practice exam helps you identify topics in which you are well prepared and topics in which you may need further training to achieving great score in actual Citrix Certified Associate - Networking (CCA - N) exam.
Citrix 1Y0-240 Sample Questions:
01. A Citrix Administrator needs to grant read-only access to a select set of citrix ADC features. Corporate password security schema must be supported.
Which four steps must the administrator take to complete this task?
a) Create an Authentication LDAP server.
b) Create a Custom Command Policy.
c) Create an Authentication Policy for LDAP authentication.
d) Create local system accounts that correspond to Help Desk User Objects in Active Directory.
e) Configure system groups that correspond to the Groups in Active Directory.
f) Configure admin partitions.
g) Bind the built-in read-only command policy to required users/groups.
02. A Citrix Administrator has installed the compression feature on the web servers. The administrator configured the citrix ADC appliance to remove the 'Accept Encoding' header from all HTTP client requests to offload the compression on the citrix ADC.
However, the administrator observed that data is NOT being compressed by the citrix ADC, even though the Accept-Encoding header is being removed from all the requests.
What could be the cause of this issue?
a) Servercmp is disabled on the citrix ADC.
b) The Compression Policy needs to be reconfigured.
c) The rewrite policy is bound at an incorrect bind point
d) The servers are automatically compressing all responses.
03. Which VLAN(S) will be bound to an interface, if VLAN 20 is bound to the interface as tagged in an environment where Citrix ADC
is configured with the default settings?
a) VLAN 20 untagged only
b) VLAN 1 tagged, VLAN 20 tagged
c) VLAN 20 tagged only
d) VLAN 1 untagged, VLAN 20 tagged
04. A network engineer has configured two Citrix ADC
MPX appliances as a high availability (HA) pair. What can the engineer configure to prevent failover if only a single interface fails?
a) FIS
b) PBR
c) SNMP
d) VMAC
05. A Citrix Administrator is configuring Unified Gateway with authentication policies. Where should the administrator configure Citrix Gateway authentication policies?
a) Global level
b) Unified Gateway level
c) Content-Switching level
d) Citrix ADC Gateway level
06. Which three options are allowed when using Classic policies?
a) CLIENT
b) SERVER
c) IP
d) HTTP
e) DNS
f) TCP
07. A Network Engineer informed the Citrix Administrator that an interface used by citrix ADC SDX is being saturated. This interface is used as a Data interface for the citrix ADC SDX.
Which action could the administrator take to address the bandwidth concerns?
a) Configure LACP on the SDX for the Data interface.
b) Configure LACP on the SDX for Management interface.
c) Add a second interface to each citrix ADC VPX instance.
d) Configure a Failover interface set on each citrix ADC VPX instance.
08. A Citrix Administrator wants to configure independent and isolated access on a single appliance for three different departments to allow them to manage and isolate their own applications.
How can the administrator isolate department-level administration?
a) Configure dedicated routes in the admin partitions for each department.
b) Configure Policy-based Routes for each department in the nsroot partition.
c) Configure admin partitions that use dedicated VLANs.
d) Configure a SNIP in each partition and bind a VLAN for the department.
09. Which two actions must be true for a client to connect to an SSL offload virtual server without any SSL errors?
(Choose two.)
a) The Server Certificate is bound to the load-balancing virtual server.
b) The Server Certificate is from a private certificate authority (CA).
c) The Root Certificate is installed on the client's device.
d) The Root Certificate is installed on the Citrix ADC.
10. A Citrix Administrator needs to configure the Lights Out Management (LOM) port. Which statement is applicable to LOM?
a) LOM is accessed using Command-Line Interface (CLI).
b) LOM IP address should be in the same subnet as NSIP.
c) LOM firmware is included in the Citrix ADC upgrade package.
d) LOM port can be used to remotely monitor and manage the appliance.
Answers:
Question: 01




Answer: a, b, c, e

Question: 02




Answer: d

Question: 03




Answer: c

Question: 04




Answer: a

Question: 05




Answer: d

Question: 06




Answer: c, d, e

Question: 07




Answer: a

Question: 08




Answer: c

Question: 09




Answer: a, c

Question: 10




Answer: a
Note: Please update us by writing an email on feedback@vmexam.com for any error in Citrix Certified Associate - Networking (CCA - N) certification exam sample questions