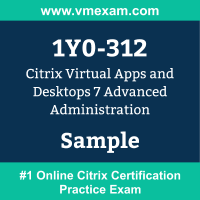 We have prepared Citrix Virtual Apps and Desktops 7 Advanced Administration (1Y0-312) certification sample questions to make you aware of actual exam properties. This sample question set provides you with information about the CCP-V exam pattern, question formate, a difficulty level of questions and time required to answer each question. To get familiar with Citrix Certified Professional - Virtualization (CCP-V) exam, we suggest you try our Sample Citrix 1Y0-312 Certification Practice Exam in simulated Citrix certification exam environment.
To test your knowledge and understanding of concepts with real-time scenario based Citrix 1Y0-312 questions, we strongly recommend you to prepare and practice with Premium Citrix CCP-V Certification Practice Exam. The premium Citrix CCP-V certification practice exam helps you identify topics in which you are well prepared and topics in which you may need further training to achieving great score in actual Citrix Certified Professional - Virtualization (CCP-V) exam.
Citrix 1Y0-312 Sample Questions:
01. Scenario: A database server outage occurred on the server that hosts the Provisioning Services database. The database has offline database support enabled.
Which two changes will a Citrix Engineer notice once the database is restored?
a) Status changes to target devices will appear.
b) Target devices will be able to start up from the vDisks.
c) The Provisioning Services Management console will become available.
d) The database will update with administrative actions performed during the outage.
02. Why is it important to update agent-based anti-virus frequently when App Layering is used?
a) So that the definitions file does NOT become outdated or self-initiate updates.
b) To improve startup time.
c) To avoid updating individual application layers.
d) So that it is NOT necessary to grant administrative rights to users.
03. A Citrix Engineer needs to configure a StoreFront deployment to use Optimal Gateway routing with FMA zones. Which three tasks can the engineer complete within the Optimal HDX Routing settings?
a) Add Gateway.
b) Manage zones.
c) Aggregate resources.
d) Map users to Delivery Controllers.
e) Manage Delivery Controllers.
04. Scenario: A Citrix Engineer is managing a Provisioning Services environment where auditing is enabled. The engineer would like to limit the growth of the Provisioning Services Farm database over time. However, all historical auditing information must be available if needed.
What should the engineer do to accomplish this?
a) Separate the Farm database and the Auditing database.
b) Enable the Autogrowth setting on the SQL database.
c) Archive the Audit Trail to an XML file.
d) Use the Filter Results feature to reduce the amount of audited objects.
05. Which repository can a Citrix Engineer use to store Elastic Layers within the network?
a) Windows File Server Share
b) Hypervisor data store
c) SharePoint site
d) FTP Server
06. Scenario: A Citrix Engineer implemented a multi-zone environment with the following characteristics:
- One Primary Zone in New York, one Satellite Zone in San Francisco zone A and another in Singapore zone B
- Microsoft Excel Application available in all zones
- New York zone configured as the App Home for Microsoft Excel
- San Francisco zone configured as the User Home for User1
User1 is currently located in San Francisco and clicks the icon for Microsoft Excel in Receiver. User1 currently has a disconnected session for a different published app in Singapore Zone.
Based on the scenario, which of the following will occur?
a) Receiver launches a new session in Satellite Zone A.
b) Receiver launches a new session in Satellite Zone B.
c) Receiver launches a new session in the Primary Zone.
d) A new session will be launched on the VDA with the lowest load index.
07. What are two benefits of creating a centralized vDisk Store?
a) Does NOT require vDisk files to be replicated
b) Minimizes the storage requirement for vDisks
c) Allows for the use of differencing disks
d) Provides redundancy without further configuration
08. Which configuration will lower the bandwidth requirements for HDX user sessions?
a) Enable the Visual quality – Always lossless Citrix policy setting.
b) Configure the Workspace Environment management (WEM) System Optimization Setting.
c) create Thinwire 8-bit mode registry key.
d) Disable Windows Media Redirection.
09. Why would a Citrix Engineer implement TFTP load balancing?
a) To allow concurrent streams to be balanced among all Provisioning Services servers in a Site
b) To allow bootstrap download requests to be distributed among all available servers
c) To allow target devices to failover between Provisioning Services servers
d) To allow user session requests to be sent to the least-loaded target device in a device collection
10. What is the recommended configuration for deployment different versions of Microsoft Office?
a) Create a distinct layer for each version.
b) Install Microsoft Office in an Elastic Layer.
c) Create one image template from all layers that contain Microsoft Office.
d) Install the latest version on the OS Layer and other versions on App Layers.
Answers:
Question: 01




Answer: a, c

Question: 02




Answer: a

Question: 03




Answer: a, b, e

Question: 04




Answer: c

Question: 05




Answer: a

Question: 06




Answer: c

Question: 07




Answer: a, b

Question: 08




Answer: c

Question: 09




Answer: b

Question: 10




Answer: a
Note: Please update us by writing an email on feedback@vmexam.com for any error in Citrix Certified Professional - Virtualization (CCP-V) certification exam sample questions