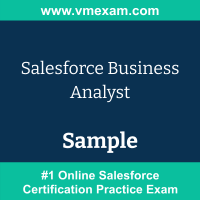 We have prepared Salesforce Business Analyst certification sample questions to make you aware of actual exam properties. This sample question set provides you with information about the Salesforce Business Analyst exam pattern, question formate, a difficulty level of questions and time required to answer each question. To get familiar with Salesforce Certified Business Analyst exam, we suggest you try our Sample Salesforce Business Analyst Certification Practice Exam in simulated Salesforce certification exam environment.
To test your knowledge and understanding of concepts with real-time scenario based questions, we strongly recommend you to prepare and practice with Premium Salesforce Business Analyst Certification Practice Exam. The premium certification practice exam helps you identify topics in which you are well prepared and topics in which you may need further training to achieving great score in actual Salesforce Certified Business Analyst exam.
Salesforce Business Analyst Sample Questions:
01. Which tool is used to create reports, incorporate filters and select the Report Type?
b) A csv file that will then get imported.
d) Report Composer
02. From where can an Admin unlock a user?
a) Setup > Locked Users > Unlock
b) Users > Select user > Unlock
c) Setup > Object Manager > Users > Select User > Unlock
d) Users > Logins > Unlock Users
03. Up to how many Profiles can a User have?
a) Up to 3
b) The Administrator can have up to 3, normal users only 1.
c) As many as required.
d) Only 1
04. Which users will be able to reset a Single Sign-On user Password?
a) The SSO Manager
b) Users above the SSO user in the role hierarchy.
c) Only the Admin
d) Admin and Users with the right permission sets.
05. What is the storage of the Developer Pro Sandbox?
a) 300MB
b) 200MB
c) 2GB
d) 1GB
06. When creating a new User how can the Admin make sure a temporary password is generated?
a) Select "Temporary Password and Confirmation Email Required"
b) There are no temporary passwords available for setup of new users in Salesforce.
c) Select "Generate Passwords and notify the user via email."
d) This is a default feature, no setup required.
07. Which permission is required to create, delete, refresh or activate a Sandbox?
a) Manage Sandbox
b) System Administrator
c) Environment Manager
d) Sandbox Editor
08. In what phase of the four application lifecycle milestones does this action belong? Communicate Changes, Update Profiles and Communicate end of Changes.
a) Build
b) Deploy
c) Test
d) Plan
09. Which Salesforce standard license can be given to someone who need access only identity services, such as single sign-on (SSO)?
a) Identity Only
b) Lightning Platform
c) SSO License
d) Salesforce License
10. What is used to declaratively move metadata from one environment to another?
a) Data Loader
b) Change Sets
c) Import Wizard
d) Ant Migration
Answers:
Question: 01




Answer: a

Question: 02




Answer: b

Question: 03




Answer: d

Question: 04




Answer: c

Question: 05




Answer: d

Question: 06




Answer: c

Question: 07




Answer: a

Question: 08




Answer: b

Question: 09




Answer: a

Question: 10




Answer: b
Note: Please update us by writing an email on feedback@vmexam.com for any error in Salesforce Certified Business Analyst certification exam sample questions