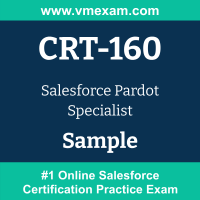 We have prepared Salesforce Pardot Specialist (CRT-160) certification sample questions to make you aware of actual exam properties. This sample question set provides you with information about the Pardot Specialist exam pattern, question formate, a difficulty level of questions and time required to answer each question. To get familiar with Salesforce Certified Pardot Specialist exam, we suggest you try our Sample Salesforce CRT-160 Certification Practice Exam in simulated Salesforce certification exam environment.
To test your knowledge and understanding of concepts with real-time scenario based Salesforce CRT-160 questions, we strongly recommend you to prepare and practice with Premium Salesforce Pardot Specialist Certification Practice Exam. The premium Salesforce Pardot Specialist certification practice exam helps you identify topics in which you are well prepared and topics in which you may need further training to achieving great score in actual Salesforce Certified Pardot Specialist exam.
Salesforce CRT-160 Sample Questions:
01. While using triggers to listen to a prospect action in engagement studio program what three type of activities can be listened to?
a) Email link click by prospect
b) Default field value update on prospect record
c) Grade update done on prospect record
d) Landing page view by prospect
e) Pdf file downloaded by prospect
02. A few visitors on Sun Solar's product offering page are asked to enter a CAPTCHA input when they try to submit "Book a demo" form. Under which scenario ConditionalCAPTCHA is shown on Pardot forms?
a) Conditional CAPTCHA is shown on form when the form being submitted is from an IP address which is in the database of the known spammers.
b) Conditional CAPTCHA is shown when the prospect is making form submission in incognito mode
c) Conditional CAPTCHA is shown when the prospect browser is not cookied
d) Conditional CAPTCHA is always visible
03. Which feature functionality Pardot uses to ensure optimum email deliverability?
a) IP Warm Up and whitelisting
b) Using CAN-SPAM supporting variable tags
c) Email authentication using Sender ID
d) Domain management using Sender Policy Framework (SPF)
e) Email authentication using Domain Keys
04. How can an anonymous visitor be created as a prospect in Pardot and eventually as a Lead/Contact in Salesforce on sync?
a) Create visitor as a Lead in Salesforce and Salesforce will sync the lead to Pardot as a new Prospect
b) Visitor can open an email sent by a sales rep using the Send Pardot Email functionality in Salesforce
c) By syncing visitors Facebook profile with Pardot using Facebook connector
d) By submitting a Salesforce Web-to-Lead form which is connected to Pardot via Form handlers
05. Cosmo Property has some complex marketing automation use cases that they want to setup and test first using Salesforce sandbox data.
What considerations should the admin keep in mind while connecting Pardot to Salesforce Sandbox account?
a) Once Pardot is integrated with Salesforce Sandbox instance the integration cannot be broken
b) Prospect created in Salesforce Sandbox instance via Pardot sync will not be automatically queued for sync when Salesforce Production instance is integrated with Pardot
c) Users created during Pardot - Salesforce Sandbox integration cannot be deleted
d) Prospect data is not automatically wiped from Pardot. Hence, before integrating Pardot with Salesforce Production instance ensure all prospect data is wiped from Pardot
06. On Sun Solar's contact us landing page created in Pardot, the admin chose to enable the setting: Redirect the prospect instead of showing the form's Thank You Content. What will happen when the prospect submits the form on landing page?
a) The form's Thank You Content will still display
b) The prospect will see an error on the page
c) The prospect will be redirected to another custom webpage whose link has been provided in Vanity URL setting on landing page
d) The prospect will stay on the same page on form submission
07. Why does Pardot rewrite email links on email send?
a) To track individual link clicks
b) To track individual page visits
c) To track if email was opened by prospect
d) To track unsubscription by prospect
08. What are the two ways using which you can configure emails that are based on recipients preference?
a) Use variable tag and dynamic content
b) Use variable tag and responsive email
c) User more image and less text in emails
d) Use dynamic content and responsive emails
09. When using completion actions with List emails what should be kept in mind?
a) No more than 3 completion actions can be configured on list email
b) Completion actions doesn't have an expiry date. If a prospect clicks on a link that triggers completion action after 3 months of receiving email, the completion action will still execute
c) Completion actions can only be configured before sending the email
d) For link click based completion actions, they will always execute every time a prospect performs link click on an email. This however is not applicable to score adjusting
10. In an engagement studio program, a marketing manager introduced Rule step after a Trigger step. What information could a Rule step evaluate in an engagement studio program?
a) Activity performed by prospect on marketing asset
b) Page behaviour shown by prospect
c) Product offering prospect is interested in
d) Prospect field value
Answers:
Question: 01




Answer: a, d, e

Question: 02




Answer: a

Question: 03




Answer: d, e

Question: 04




Answer: d

Question: 05




Answer: b, d

Question: 06




Answer: c

Question: 07




Answer: a, b

Question: 08




Answer: a

Question: 09




Answer: b, d

Question: 10




Answer: d
Note: Please update us by writing an email on feedback@vmexam.com for any error in Salesforce Certified Pardot Specialist certification exam sample questions