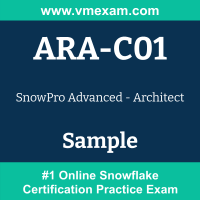 We have prepared Snowflake SnowPro Advanced - Architect (ARA-C01) certification sample questions to make you aware of actual exam properties. This sample question set provides you with information about the SnowPro Advanced - Architect exam pattern, question formate, a difficulty level of questions and time required to answer each question. To get familiar with Snowflake Certified SnowPro Advanced - Architect exam, we suggest you try our Sample Snowflake ARA-C01 Certification Practice Exam in simulated Snowflake certification exam environment.
To test your knowledge and understanding of concepts with real-time scenario based Snowflake ARA-C01 questions, we strongly recommend you to prepare and practice with Premium Snowflake SnowPro Advanced - Architect Certification Practice Exam. The premium Snowflake SnowPro Advanced - Architect certification practice exam helps you identify topics in which you are well prepared and topics in which you may need further training to achieving great score in actual Snowflake Certified SnowPro Advanced - Architect exam.
Snowflake ARA-C01 Sample Questions:
01. For which use cases, will you use cross-cloud and cross-region replication?
a) Business continuity and disaster recovery
b) Secure data sharing across regions/cloud
c) Data portability and account migrations
d) All of these
02. When loading data from stage using COPY INTO, what options can you specify for the ON_ERROR clause?
a) CONTINUE
b) SKIP_FILE
c) ABORT_STATEMENT
d) FAIL
03. One of your colleagues has submitted a long running query in Snowflake. how long the query can run till snowflake automatically cancels the query?
a) 14 hours
b) 2 days
c) 2 hours
d) 24 hours
04. When would you usually consider to add clustering key to a table?
a) The performance of the query has deteriorated over a period of time.
b) The number of users querying the table has increased
c) it is a multi-terabyte size table
d) The table has more than 20 columns
05. What is the data size limit for loading into a variant column?
a) 16 MB(Compressed)
b) 1 GB(Compressed)
c) 32 GB
d) 10 MB - 100 MB compressed
06. Who can view account-level Credit and Storage Usage?
a) ACCOUNTADMIN
b) A role which has been granted the MONITOR USAGE global privilege
c) STORAGEADMIN
d) STORAGEMONITOR
07. When a database gets cloned, what accesses are replicated?
a) All objects in the database and their child objects(schemas, tables etc)
b) Only the data base object access
c) Only the child object access
d) No access gets replicated
08. Which command will you run to list all privileges and roles granted to the role?
a) SHOW GRANTS FOR ROLE <ROLE NAME>
b) SHOW GRANTS OF ROLE <ROLE NAME>
c) SHOW GRANTS ON ROLE <ROLE NAME>
d) SHOW GRANTS TO ROLE <ROLE NAME>
09. A stream stores data with the same columns as the source data but with additional columns. What are those additional columns?
a) METADATA$ACTION
b) METADATA$ISUPDATE
c) METADATA$ROW_ID
d) METADATA$DELETE
10. Which of the below approach results in perfromance improvement through linear scaling of data ingestion workload?
a) Split large files into recommended range of 10 MB to 100 MB
b) Organize data by granular path
c) All of the above
d) Resize virtual warehouse
Answers:
Question: 01




Answer: d

Question: 02




Answer: a, b, c

Question: 03




Answer: b

Question: 04




Answer: a, c

Question: 05




Answer: a

Question: 06




Answer: a, b

Question: 07




Answer: a

Question: 08




Answer: d

Question: 09




Answer: a, b, c

Question: 10




Answer: c
Note: Please update us by writing an email on feedback@vmexam.com for any error in Snowflake Certified SnowPro Advanced - Architect certification exam sample questions