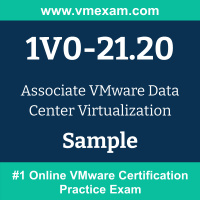 We have prepared Associate VMware Data Center Virtualization (1V0-21.20) certification sample questions to make you aware of actual exam properties. This sample question set provides you with information about the VCTA-DCV 2023 exam pattern, question formate, a difficulty level of questions and time required to answer each question. To get familiar with VMware Certified Technical Associate - Data Center Virtualization 2023 (VCTA-DCV 2023) exam, we suggest you try our Sample VMware 1V0-21.20 Certification Practice Exam in simulated VMware certification exam environment.
To test your knowledge and understanding of concepts with real-time scenario based VMware 1V0-21.20 questions, we strongly recommend you to prepare and practice with Premium VMware VCTA-DCV 2023 Certification Practice Exam. The premium VMware VCTA-DCV 2023 certification practice exam helps you identify topics in which you are well prepared and topics in which you may need further training to achieving great score in actual VMware Certified Technical Associate - Data Center Virtualization 2023 (VCTA-DCV 2023) exam.
VMware 1V0-21.20 Sample Questions:
01. Which event type indicates a Fatal problem has occurred in the system, and the process or operation will be terminated?
a) Information
b) Audit
c) Error
d) Warning
02. A system administrator has to configure several virtual machines for different business units. The administrator needs to enable features that allow overcommitment of resources while adhering to the business requirements and different department performance SLAs.
Which two features should the administrator enable to achieve this goal?
a) vSphere Distributed Power Management
b) vSphere Resource Pools
c) vSphere Fault Tolerance
d) vSphere High Availability
e) vSphere Storage I/O Control
03. Which problem is solved by migrating virtual machines (VMs) using vSphere vMotion?
a) A vSphere cluster that needs to be upgraded without any VM downtime.
b) A problem that occurred during VM patching and a roll-back is needed.
c) The names of the VM files that do not match the inventory name of the V
d) Heavy storage traffic and latency that are concentrated in a few datastores.
04. A vSphere administrator needs to create an exact replica of a virtual machine as a safeguard prior to changing the virtual machine configuration.
Which vSphere feature accomplishes this requirement?
a) vSphere Fault Tolerance
b) vSphere vMotion
c) Cloning
d) Snapshots
05. Which feature helps maintain zero data loss when a VM on an ESXi server fails unexpectedly?
a) vMotion
b) Fault Tolerance
c) Storage vMotion
d) vSphere High Availability
06. During a virtual machine migration, which VMkernel networking layer handles the traffic?
a) Fault Tolerance
b) IP storage
c) vSAN
d) vSphere vMotion
07. Which two vSphere features help address an organization's business availability challenges?
a) vSphere Fault Tolerance
b) vSphere Pod Service
c) vSphere DPM
d) vSphere Trust Authority
e) vSphere High Availability
08. An administrator is asked to copy a single hard disk from one datastore to another. Which virtual machine file type should the administrator select?
a) vmdk
b) vswp
c) vmx
d) vmss
09. Which vSphere component centralizes automated patch and version management for clusters. ESXi. drivers and firmware. Virtual Hardware, and VMware Tools?
a) vSphere DRS
b) Content Library
c) VMware Cloud Foundation
d) vSphere Lifecycle Manager
10. Which file system protocol is supported by vSphere?
a) NFS
b) iSCSI
c) SAN
d) vSAN
Answers:
Question: 01




Answer: c

Question: 02




Answer: b, e

Question: 03




Answer: d

Question: 04




Answer: c

Question: 05




Answer: b

Question: 06




Answer: b

Question: 07




Answer: a, e

Question: 08




Answer: a

Question: 09




Answer: d

Question: 10




Answer: a
Note: Please update us by writing an email on feedback@vmexam.com for any error in VMware Certified Technical Associate - Data Center Virtualization 2023 (VCTA-DCV 2023) certification exam sample questions