We have prepared VMware NSX 4.x Professional (2V0-41.23) certification sample questions to make you aware of actual exam properties. This sample question set provides you with information about the VCP-NV 2023 exam pattern, question formate, a difficulty level of questions and time required to answer each question. To get familiar with VMware Certified Professional - Network Virtualization 2023 (VCP-NV 2023) exam, we suggest you try our Sample VMware 2V0-41.23 Certification Practice Exam in simulated VMware certification exam environment.
To test your knowledge and understanding of concepts with real-time scenario based VMware 2V0-41.23 questions, we strongly recommend you to prepare and practice with Premium VMware VCP-NV 2023 Certification Practice Exam. The premium VMware VCP-NV 2023 certification practice exam helps you identify topics in which you are well prepared and topics in which you may need further training to achieving great score in actual VMware Certified Professional - Network Virtualization 2023 (VCP-NV 2023) exam.
VMware 2V0-41.23 Sample Questions:
01. An administrator wants to validate the BGP connection status between the Tier-0 Gateway and the upstream physical router.
What sequence of commands could be used to check this status on NSX Edge node?
a) - set vrf <ID>
- show logical-routers- show <LR-D> bgp
b) - show logical-routers- get vrf
c) - enable <LR-D>
d) - get logical-routers
02. Which CLI command does a NSX administrator use to obtain information about the NSX Manager configuration when troubleshooting a production system?
a) show configuration
b) get managers
c) show interface
d) get configuration
03. Which three networking features could be configured using the NSX Manager Simplified UI?
a) NAT Rules
b) containers
c) load balancers
d) logical routers
e) segments
f) logical switches
04. Refer to the exhibit.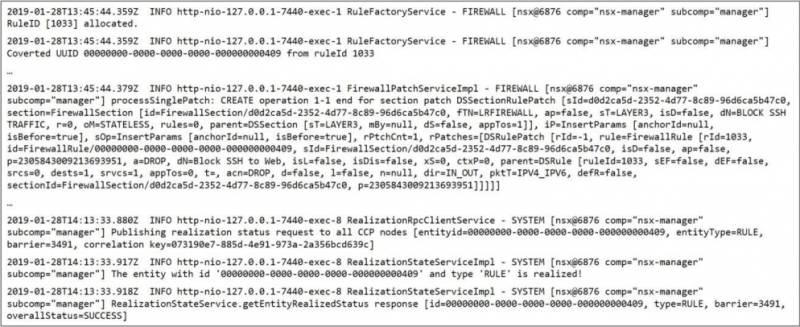 A security administrator has configured a gateway firewall rule to block traffic to all Web servers. What can the administrator infer about the rule publication after reviewing the log extract?
a) The user has no permission to create gateway firewall rules.
b) The rule has been successfully realized in the NSX Manager.
c) The rule has been successfully realized in the data path.
d) There was a communication problem with the Central Control Plane.
05. A centralized packet analysis tool VM configured to monitor a NSX-T deployment is dropping some of the packets sent to it.
Which three actions could minimize the drops?
a) Increase the RX buffer ring size.
b) Assign more CPU resources to the VM.
c) Use DPDK to improve packet processing performance.
d) Ensure the host 10GbE NIC is configured for full duplex.
e) Increase the TX buffer ring size.
f) Increase MTU on the VM to 9000.
06. Which command is used to set the NSX Manager's logging-level to debug mode for troubleshooting?
a)
set service manager log-level debug
b) set service nsx-manager logging-level debug
c)
set service manager logging-level debug
d) set service nsx-manager log-level debug
07. Which two tools could be used to view NSX Policy logs?
a) NSX Manager CLI
b) NSX Manager root privileged mode
c) ESXI host nsxcli
d) KVM host nsxcli
e) Edge CLI
08. Which discovery protocol is supported for hypervisor transport nodes?
a) Link Layer Discovery Protocol
b) Cisco Discovery Protocol
c) Neighbor Discovery Protocol
d) Adobe Real-time CDP
09. Which two VMware Cloud Management systems are compatible with NSX-T Data Center capabilities?
a) VMware Power CLI
b) vRealize Automation
c) vRealize CodeStream
d) VMware Integrated OpenStack
e) VMware vSphere
10. Which three protocols could an NSX administrator use to transfer log messages to a remote log server?
a) TCP
b) SSL
c) UDP
d) HTTPS
e) TLS
f) SSH
Answers:
Question: 01




Answer: d

Question: 02




Answer: b

Question: 03




Answer: a, c, e

Question: 04




Answer: a, b

Question: 05




Answer: a, b, c

Question: 06




Answer: c

Question: 07




Answer: a, b

Question: 08




Answer: a

Question: 09




Answer: b, d

Question: 10




Answer: a, c, e
Note: Please update us by writing an email on feedback@vmexam.com for any error in VMware Certified Professional - Network Virtualization 2023 (VCP-NV 2023) certification exam sample questions