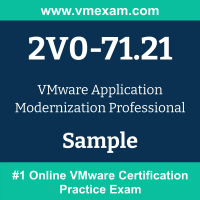 We have prepared VMware Application Modernization Professional (2V0-71.21) certification sample questions to make you aware of actual exam properties. This sample question set provides you with information about the VCP-AM 2023 exam pattern, question formate, a difficulty level of questions and time required to answer each question. To get familiar with VMware Certified Professional - Application Modernization 2023 (VCP-AM 2023) exam, we suggest you try our Sample VMware 2V0-71.21 Certification Practice Exam in simulated VMware certification exam environment.
To test your knowledge and understanding of concepts with real-time scenario based VMware 2V0-71.21 questions, we strongly recommend you to prepare and practice with Premium VMware VCP-AM 2023 Certification Practice Exam. The premium VMware VCP-AM 2023 certification practice exam helps you identify topics in which you are well prepared and topics in which you may need further training to achieving great score in actual VMware Certified Professional - Application Modernization 2023 (VCP-AM 2023) exam.
VMware 2V0-71.21 Sample Questions:
01. A customer needs to use Kubernetes and wants to use networking solution, Antrea. Which product from Tanzu portfolio should the customer use?
a) Tanzu Application Catalog
b) Tanzu Observability
c) Tanzu Kubernetes Grid
d) Tanzu Mission Control
02. Why is the port 6443 required in the boostrap machine to deploy Tanzu Kubernetes Grid on vSphere environment?
a) Kubernetes IP is exposed
b) Kubernetes API is exposed
c) Kubernetes TLS is exposed
d) Kubernetes VPN is exposed
03. After successfully configuring vSphere Container Storage Interface (CSI), what is the path an administrator can follow to view the status of the container volumes?
a) vSAN Data Store in ESXi Host Client.
b) Container volumes in vSphere Client.
c) Describe the StorafeClass via kubectl.
d) Get the status of the pods vis kubectl.
04. To configure a cluster with user authentication in Tanzu Kubernetes Grid (TKG), which options are needed to deploy Dex on a management cluster running on vSphere?
a) Dex with Local Authentication
b) Dex with Active Directory
c) Dex with OpenLDAP
d) Dex with OIDC
e) Dex with LDAP
05. How are Tanzu Kubernetes clusters upgraded?
a) Rolling upgrades
b) Deploy a new cluster with upgraded Kubernetes release
c) Clusters are only upgraded offline
d) In-place upgrade for each node
06. What are the pre-requisites for installing the Harbor registry in Tanzu Kubernetes Grid (TKG)?
a) Install Harbor helm from vCenter.
b) Deploy a management cluster, download and install the TKG extensions and Carvel tools.
c) Deploy a management cluster, launch the Harbor installation wizard.
d) Deploy a management cluster and install Tanzu Kubernetes Grid extensions.
07. Choose two supported functionalities when enabling Workload Management with a VMware vSphere Distributed Switch?
a) NSX Advanced Load Balancer
b) NSX Load Balancer
c) Tanzu Kubernetes clusters
d) Embedded Harbor Registry
e) vSphere Pods
08. What are two ClusterAPI providers being used in Tanzu Kubernetes Grid?
a) CAPZ
b) CAPA
c) CAP
d) CAPW
e) CAPV
09. Under Menu, which section to enable Tanzu Kubernetes Cluster in VMware vSphere for Tanzu on vSphere Client?
a) Hosts and Cluster
b) VMs and Templates
c) Content Libraries
d) Workload Management
10. Which access policy control is used in Tanzu Mission Control?
a) vCenter Server access control
b) Attribute-based access control
c) Role-based access control
d) Active Directory access control
Answers:
Question: 01




Answer: c

Question: 02




Answer: b

Question: 03




Answer: d

Question: 04




Answer: d, e

Question: 05




Answer: a

Question: 06




Answer: b

Question: 07




Answer: a, c

Question: 08




Answer: a, b

Question: 09




Answer: d

Question: 10




Answer: c
Note: Please update us by writing an email on feedback@vmexam.com for any error in VMware Certified Professional - Application Modernization 2023 (VCP-AM 2023) certification exam sample questions