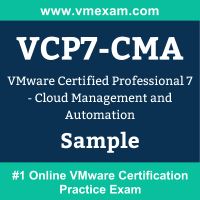 We have prepared VMware Certified Professional 7 - Cloud Management and Automation (2V0-731) certification sample questions to make you aware of actual exam properties. This sample question set provides you with information about the VCP7-CMA exam pattern, question formate, a difficulty level of questions and time required to answer each question. To get familiar with VMware Certified Professional 7 - Cloud Management and Automation (VCP7-CMA) exam, we suggest you try our Sample VMware 2V0-731 Certification Practice Exam in simulated VMware certification exam environment.
To test your knowledge and understanding of concepts with real-time scenario based VMware 2V0-731 questions, we strongly recommend you to prepare and practice with Premium VMware VCP7-CMA Certification Practice Exam. The premium VMware VCP7-CMA certification practice exam helps you identify topics in which you are well prepared and topics in which you may need further training to achieving great score in actual VMware Certified Professional 7 - Cloud Management and Automation (VCP7-CMA) exam.
VMware 2V0-731 Sample Questions:
01. What is a custom resource?
a) Custom resources are new provisioned items that attach to a service.
b) Custom resources configure post-provisioning operations that users can perform on provisioned items.
c) Custom resources are a type of provisioned item mapped to an existing vRealize Orchestrator object type.
d) Custom resources configure the properties of blueprints using VMware vSphere endpoints.
02. Which vRealize Automation role provides the permissions necessary to Reclaim virtual machines?
a) IaaS Administrator
b) Fabric Administrator
c) Tenant Administrator
d) Business Group User
03. If you create a new Tenant with a unique identifier RainPole, what URL will the RainPole users need to access vRealize Automation?
a) https://vra.company.com/vcac/org/rainpole
b) https://vra.company.com/vcac/rainpole
c) https://vra.company.com/rainpole
d) https://rainpole.company.com/vcac
04. What role must you use when adding a third party Identity Provider to vRealize Automation?
a) Tenant Administrator
b) System Administrator
c) IaaS Administrator
d) Business Group Administrator
05. Which three vRealize Automation roles can create and manage composite blueprints?
a) Software Architect
b) Catalog Administrator
c) Infrastructure Architect
d) Application Architect
e) XaaS Architect
06. Users are reporting that a catalog item is no longer available after recent changes. Which of the following would account for this behavior?
a) An approval policy was assigned to the item.
b) The storage resources on the reservation were lowered.
c) The blueprint was unpublished.
d) New support users were added to the business group.
07. Where would you find the workitem.xml file located after deploying a virtual machine with the guest agent installed in a vRealize Automation Linux blueprint?
a) /opt/vmware-appdirector/agent
b) /tmp
c) /var/share/gugent
d) /usr/share/gugent/site
08. In all three distributed vRealize Automation architecture designs, which port must be available to all vRA servers?
a) 5480
b) 8444
c) 5021
d) 8281
09. The IaaS Administrator role includes which two of these responsibilities?
a) Create and manage endpoints.
b) Manage property groups and dictionary.
c) Create and manage reservations.
d) Create and manage fabric groups.
10. What is the vRealize Orchestrator Plug-In installer file extension?
a) .dat
b) .vmoapp
c) .exe
d) .vro
Answers:
Question: 01




Answer: c

Question: 02




Answer: c

Question: 03




Answer: a

Question: 04




Answer: a

Question: 05




Answer: a, c, d

Question: 06




Answer: c

Question: 07




Answer: d

Question: 08




Answer: a

Question: 09




Answer: a, d

Question: 10




Answer: b
Note: Please update us by writing an email on feedback@vmexam.com for any error in VMware Certified Professional 7 - Cloud Management and Automation (VCP7-CMA) certification exam sample questions