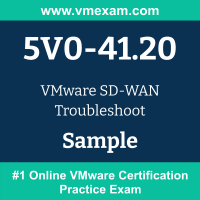 We have prepared VMware SD-WAN Troubleshoot (5V0-41.20) certification sample questions to make you aware of actual exam properties. This sample question set provides you with information about the SD-WAN Troubleshoot exam pattern, question formate, a difficulty level of questions and time required to answer each question. To get familiar with VMware SD-WAN Troubleshoot Skills 2023 exam, we suggest you try our Sample VMware 5V0-41.20 Certification Practice Exam in simulated VMware certification exam environment.
To test your knowledge and understanding of concepts with real-time scenario based VMware 5V0-41.20 questions, we strongly recommend you to prepare and practice with Premium VMware SD-WAN Troubleshoot Certification Practice Exam. The premium VMware SD-WAN Troubleshoot certification practice exam helps you identify topics in which you are well prepared and topics in which you may need further training to achieving great score in actual VMware SD-WAN Troubleshoot Skills 2023 exam.
VMware 5V0-41.20 Sample Questions:
01. What is a common service insertion-related issue when using SD-WAN?
a) Service insertion negatively impacting application performance
b) Service insertion not properly configured
c) Service insertion causing network downtime
d) None of the above
02. Which protocol is commonly used for overlay routing?
a) OSPF
b) MPLS
c) VXLAN
d) BGP
03. How can DMPO (Dynamic Multipath Optimization) be used to troubleshoot application performance issues?
a) DMPO can be used to identify and optimize the most efficient network path for the application traffic.
b) DMPO can be used to diagnose server-side performance issues.
c) DMPO can be used to monitor and analyze user behavior on the application.
d) None of the above.
04. What could be the cause of a profile-related issue where a user's account is not syncing across devices?
a) Poor internet connectivity
b) Incorrect account settings
c) Outdated operating system
d) Hardware failure
05. What is the purpose of the Event Viewer in an SD-WAN Edge?
a) To view device logs and generate reports
b) To perform advanced troubleshooting and configuration tasks
c) To monitor device performance and network traffic
d) None of the above
06. What could be the cause of a connectivity issue where some devices can connect to the network while others cannot?
a) DNS issues
b) Incorrect network settings
c) IP address conflict
d) Router malfunction
07. After resolving numerous connectivity Issues throughout the various branch sites, connectivity between applications and users is finally present- The network administrator is informed (hat during certain tests, applications are not performing as they are expected to.
Users report that call quality has not fully improved and that some of their calls either drop or have poor voice quality where the conversation is breaking up. Other users are noticing that file transfers are slower than expect. A group of users from a few sites have reported slowness in accessing internal and external applications.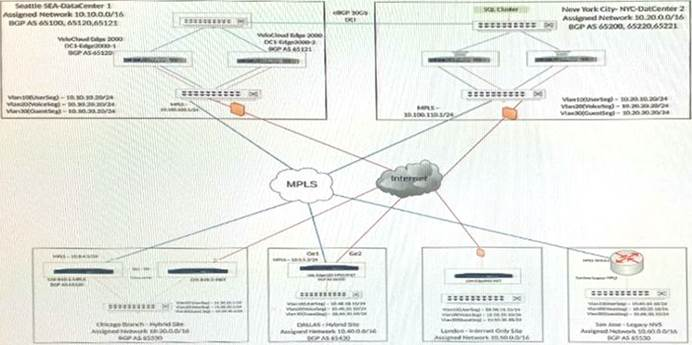 Which metrics can a network administrator verify in the QoE screen to determine the overall health of Underlay and Overlay?
a) Jitter Packet Loss, Speed.
b) Jitter, Packet Loss, Latency.
c) Jitter, Speed, Latency.
d) Packet Loss, Latency, Speed.
08. After completing the branch activation activities for all required branches, the network administrator attempts to test connectivity between the various branches and between the hubs and branches. The administrator notices a lack of connectivity despite being certain that configurations have been complete.
The administrator also observed that several users are reporting intermittent connectivity to some of the applications they are accessing. Other users are reporting no access to these applications. Other users at some of the branches claim they cannot get to certain public resources. The administrator wants to ensure that all sites can talk to each other and all resources are accessible.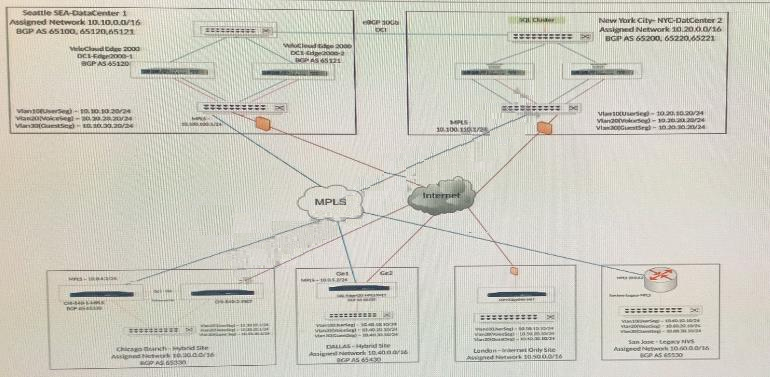 Where can the network administrator check to see what routes are present on the London-site Edge?
a) Log into the VCO > Configuration > Overlay Flow Control
b) Log into the VCO > Test & Troubleshoot > Remote Diagnostics > Run "List Paths"
c) Log into the VCO > Test & Troubleshoot > Remote Diagnostics > Run "Route Table Dump"
d) Log into the VCO > Monitoring > Overlay Flow Control
09. What is the first step to troubleshoot a connectivity issue?
a) Reboot the device
b) Check network cables
c) Ping the IP address of the target device
d) Verify the device is connected to the network
10. Which Edge appliance is suitable for a small business with low bandwidth requirements?
a) Edge 520
b) Edge 510
c) Edge 540
d) Edge 840
Answers:
Question: 01




Answer: b

Question: 02




Answer: d

Question: 03




Answer: a

Question: 04




Answer: b

Question: 05




Answer: a

Question: 06




Answer: c

Question: 07




Answer: b

Question: 08




Answer: c

Question: 09




Answer: d

Question: 10




Answer: b
Note: Please update us by writing an email on feedback@vmexam.com for any error in VMware SD-WAN Troubleshoot Skills 2023 certification exam sample questions