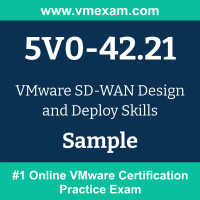 We have prepared VMware SD-WAN Design and Deploy Skills (5V0-42.21) certification sample questions to make you aware of actual exam properties. This sample question set provides you with information about the SD-WAN Design and Deploy Skills exam pattern, question formate, a difficulty level of questions and time required to answer each question. To get familiar with VMware NSX-T Data Center Security Skills 2023 exam, we suggest you try our Sample VMware 5V0-42.21 Certification Practice Exam in simulated VMware certification exam environment.
To test your knowledge and understanding of concepts with real-time scenario based VMware 5V0-42.21 questions, we strongly recommend you to prepare and practice with Premium VMware SD-WAN Design and Deploy Skills Certification Practice Exam. The premium VMware SD-WAN Design and Deploy Skills certification practice exam helps you identify topics in which you are well prepared and topics in which you may need further training to achieving great score in actual VMware NSX-T Data Center Security Skills 2023 exam.
VMware 5V0-42.21 Sample Questions:
01. Which three authentication mode options ate valid for use on the VMware SD-WAN Edge?
a) Certificate Enabled
b) Certificate ate Optional
c) Certificate Disabled
d) Certificate Activated
e) Certificate Accepted
f) Certificate Requited
02. A customer is looking to have Quality of Service (QoS), resource allocations, link/path steering, and error correction applied automatically based on applications. Which component of VMware SD-WAN helps the customer achieve this requirement?
a) Overlay Flow Control
b) High Availability Configuration
c) Business Policy Framework
d) Branch Site Topologies
03. What are three key benefits of VMware SD-WAN?
a) Provision Edges in minutes
b) Automated configuration of cloud resources
c) Remove requirement of Edge devices
d) Gain visibility across any link
e) Layer 2 VPNs between sites
f) Reduce the burden on MPLS
04. Employees with an Apple iOS device have been causing congestion on the company's internet What should an administrator configure to target these devices when creating a Business policy for this issue?
a) Match Destination
b) Match Source
c) Action Network Service
d) Action Priority
05. A customer is using hypervisor to install VMware Partner Gateways. Which two hypervisors may be used?
a) Hyper-V
b) Kubermetes
c) XenServer
d) KVM
e) ESXi
06. Given a VMware SD WAN Branch Edge with Dual Internet links A and B:
- Link A has 50 Mb capacity and latency 10ms
- Link H has 50 Mb capacity and latency 10ms
A database backup of 40Mbps is parted, and the traffic classified as low priority bulk traffic. Which statement is correct?
a) DMPO will perform pen How load balancing.
b) Packet duplication will take plant? to ensure both links are optimized.
c) Packets will be sent nut the highest latency link first as this is low priority bulk traffic
d) Link Aggregation may take place, and both links could be used.
07. Company A has recently acquired Company B and needs to establish network connectivity. Company A has only Cisco for firewalls and VPN. Company B is using VMware SD-WAN. Which VMware SD-WAN Cloud VPN solution should an administrator configure to establish connectivity?
a) Branch to Non VMware SD-WAN Site
b) Branch to SD-WAN Hub
c) Branch to Main Office VPN
d) Branch to Branch VPN
08. Which VMware SR-WAN component runs the Deep Application Recognition Engine?
a) VMware SD WAN Orchestrator
b) VMware SD-WAN Controller
c) VMware SD-WAN Gateway
d) VMware SD-WAN Edge
09. During a security-related discussion, an administrator determines that guest users not be able to access any resources on the corporate network. Which VMware SD-WAN feature can achieve this goal in the most scalable and manageable way?
a) Segments
b) Business Policy
c) VLANs
d) Firewall
10. What is considered a typical VMware SD-WAN use case?
a) Provide a distributed (per device) commands line interface (CLI) based configurations to implement complex network design integration options.
b) Provide high speed layer 2 data center interconnects.
c) Provide cloud delivered central management Orchestrator to implement complex design network integration options.
d) Provide management, control plane, and data forwarding from a single system to reduce complexly for the network administrator.
Answers:
Question: 01




Answer: a, c, e

Question: 02




Answer: c

Question: 03




Answer: b, c, f

Question: 04




Answer: d

Question: 05




Answer: a, d

Question: 06




Answer: d

Question: 07




Answer: a

Question: 08




Answer: b

Question: 09




Answer: a

Question: 10




Answer: d
Note: Please update us by writing an email on feedback@vmexam.com for any error in VMware NSX-T Data Center Security Skills 2023 certification exam sample questions