The IT industry uses certification to prove someone has acquired certain technical knowledge and skills. If you attained a Citrix Certified Expert - Virtualization (CCE-V) and/or Citrix Certified Professional - Virtualization (CCP-V) certification, you're probably thinking about recertifying to maintain your certification status. If you haven't thought about recertifying yet, here is why you should.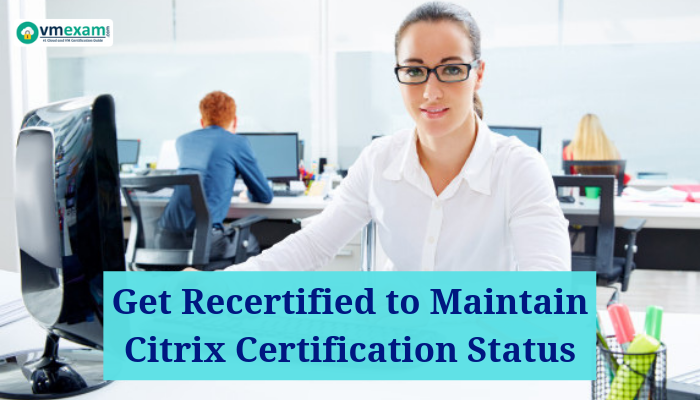 All of the following Citrix certifications are three-year term based. What this means is that these certifications are considered current and valid for a period of three years from the date attained:
Solution-Based Certifications
Virtualization:
Networking:
Citrix Certified Professional - Networking (CCP-N)
Mobility:
Citrix Certified Professional - Mobility (CCP-M)

Legacy Certifications (Retired Certifications)

Citrix Certified Integration Architect for Virtualization (CCIA for Virtualization)

Citrix Certified Enterprise Engineer for Virtualization (CCEE for Virtualization)
If you hold the CCE-V or CCP-V certification, the only two active certifications that required multiple exams to initially attain, we have made it simple for you to recertify by taking and passing one exam - one exam only.
Here is How to Retain?
While the certification you would like to retain is still current, (that is, prior to the expiration date of your individual certification), take and pass the most up-to-date exam associated with that certification. For example:
CCE-V -> take and pass the 1Y0-403 Citrix Virtual Apps and Desktops 7 Assessment Design and Advanced Configurations exam.

CCP-V -> take and pass the 1Y0-312 Citrix Virtual Apps and Desktops 7 Advanced Administration exam.
This also applies to all the other term-based certifications listed above.
Make sure you attempt to recertify 90 to 60 days before the expiration of your certification to ensure you allow ample time to retest should you not pass on your first attempt.

Before you test, make sure to download and read the prep guides for the associated exam thoroughly.

If you determine from the prep guide that you need some brushing up, take advantage of attending the corresponding training.
Please note: Each certification expires independently based on the date attained; therefore, you must renew each certification you would like to maintain before the expiration of that individual certification.
Good luck, and don't wait until it's too late to recertify.