I'm often asked whether I'm Citrix certified. For the past three years, my answer has been "no." Next question that bothered me is "How can I prepare for a Citrix exam?" My answer is always the same: "Login to vmexam.com for the exam preparation".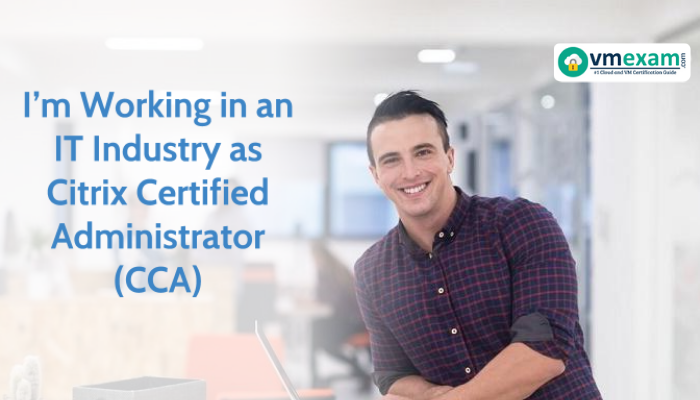 There are a few other things you need in order to succeed when you take a Citrix exam:
Field experience relative to the product(s) on the exam.

Access to the recommended training materials.

Online practice exam and sample questions.
What's in the Preparation Guide?
Sample questions - types of questions to expect on the exam.

Percentage Weightings of the major domains covered on the exam - which areas to focus on as you study for the exam.

Objectives covered on the exam - statements describing how each of the topics identified for inclusion on the exam will be tested.

Recommended Experience - how much real world hands-on experience you will need in order to be sufficiently prepared for the exam.

Preparatory Course(s) - a list of recommended courses to take in order to prepare for the exam and at times courses required in order to complete the certification requirement.

Resources used to develop the exam content – where the exam questions are taken from like courseware manuals, Knowledge-based articles, Blogs and other resources.
How is the Preparation Guide Useful?
Where do I start? Start with VMExam.com the wealth of information on this site at your service, you will never worry about taking a Citrix exam again.
First, let's start with the exam objectives. Each question is written to an objective. By providing you with the objectives, VMExam.com is giving you the most valuable tools like online practice exam, blogs you will need in order to study for all the possible questions that could be on the exam.
Scenario: XenApp 6 was recently implemented in an environment. A Citrix Administrator in the environment needs to tell the end users which XenApp 6 plug-in to install in order to access their XenApp 6 resources. The end users in the environment will need to access their hosted applications from Web Interface.
How I Did
My Exam Preparation
Last week I went to training.citrix.com, clicked around the education pages until I found the links, and signed myself up for exam Citrix CCA. My plan was to just "show up" for the exam, with absolutely no preparation whatsoever. In fact, I didn't even fire up a Citrix server just to run through the admin consoles. Later in my preparation, i started taking services of vmexam site for leading up to this exam. Here i mean to say i strengthen my preparation with sample questions and practice exam offered by vmexam on CCA.
Journey Towards Citrix Certification
I honestly can't remember the last time I took a certification exam certainly it was before I left HP to become independent back in May. I chose the New Horizons testing center on 22nd Street in Manhattan for today's exam.
I ran from the subway to the building through a downpour, umbrella-less, to find that even though the New Horizons reception area was on the first floor, the exams were administered in the basement. (Some things never change!) I went downstairs and signed in with the exam receptionist where I was told that my exam was still downloading. I showed my two forms of ID, surrendered my Blackberry, and followed her into the exam room with my three blank sheets of paper and my new pen.
In that instant, I was mentally teleported back to 2000 in Cleveland, Ohio. All white walls, crappy old computers, and a mouse whose buttons were stained with the caffeine that's leeched through the fingers of the years of exam-takers ahead of me.
Whatever. I can still write about whether I think the exam was a good exam or not as long as I talk broadly. So I think I'm fine. A quick click of the "Agree and continue" button and I'm off!
My timer starts counting down and I'm staring at Question 1. It was at this point that I realized I'd made a huge mistake. I know that I agreed that I would not disclose blah blah about the exam, but I'm going to purposefully break that NDA for this one question.
On the Result Day!!
Passing this exam (and therefore receiving your Citrix Certified Administrator designation) requires a score of 68%. In the end, I passed with a 77%. So I am now Citrix-certified once again!
Citrix deserves a lot of credit here. I know the CCA is just one exam. And sure it has its flaws. But all-in-all it's a decent test and probably about as good as any vendor could do. So should you go out and get Citrix-certified? It depends. If getting certified will get a raise at work, then yes! If you'll get a bonus, then yes! If you're afraid of getting laid off and you'll be in the job market? Sure, it can't hurt.