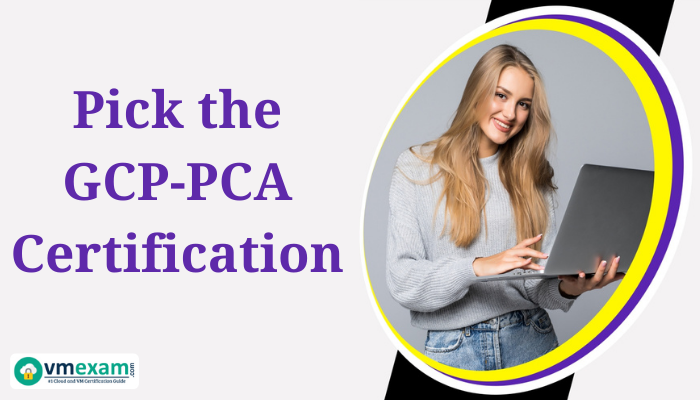 The Google Cloud Platform exams do have a lot of comparisons to the AWS exams. Still, in our opinion, for most people, the GCP-PCA Professional Cloud Architect exam will be more complicated than the AWS Certified Solutions Architect Professional exam.
One difference is that Google expects every Solutions Architect to come from a dev background. Now, this might not be an issue for most people, but some would be entirely thrown off by a question asking them to debug some Python code that has nothing to do with GCP.
But this leads to the vital difference: the GCP-PCA certification revolves entirely around professionally performing the Cloud Architect role rather than around the platform itself. There is significant value in this because it can better represent real-world ability. But this can also make it much harder because the scope is almost limitless. Many exam questions have nothing to do with Google.
A Professional Cloud Architect allows organizations to leverage Google Cloud technologies. With a thorough knowledge of cloud architecture and Google Cloud Platform, this individual can design, develop, and maintain robust, secure, scalable, very available, and dynamic solutions to drive business objectives.
Who Can Apply for the Google Cloud Architect GCP-PCA Certification Exam?
Although the Google Cloud Engineer certification exam is not restricted to any particular role yet it is considered, mainly intended for and the target audience for the Google Certified Professional Cloud Architect GCP-PCA exam includes:
Anyone who wants to improve skills with Cloud Architecture Certifications.

A candidate who wants to get a knowledge of Google Cloud Platform - GCP.

Anyone who is providing for the Cloud Architect Exam from Google.

Anyone who needs to understand Public Cloud, Private Cloud, Hybrid Cloud Deployment.

Anyone requires to understand the Services offering from the Google Cloud Platform.

Customer of Google Cloud Platform and needs to know services offered.

Current Customers of Amazon, Azure, or any other public cloud require to learn GCP Services.

AWS Solution Architect or Microsoft Azure Architects needs to know Google Cloud Platform.

Developers, Lead Developers who are utilizing Google Cloud Platform Services or any other public cloud services.
Prerequisites for GCP-PCA Certification
You will have the perfect starting point for your training with these prerequisites:
Familiarity with application development, systems operations, Linux operating systems, and data analytics/machine learning helps understand the technologies covered.

Fundamental knowledge of command-line tools and Linux working system environments.

Systems Operations experience, including deploying and managing applications, either on-premises or in a public cloud environment.

Knowledge and experience with GCP compared to GCP Architecting Infrastructure.

Understanding of cloud solutions compared to GCP Design and Process.

Industry experience with cloud computing.
Key Details of Google Cloud Certified - Professional Cloud Architect Certification
Professional Cloud Architect GCP-PCA is currently available in English or Japanese. It is valid for two years, and the holders of this credential will have to get recertified to maintain the certification status.
The scope of this GCP-PCA certificate is significant as it covers IaaS, SaaS, PaaS, networking, monitoring, storage, testing, security, etc. You will also get valuable knowledge and skills in developing, designing, and managing scalable, robust, dynamic, secure, and highly available solutions that aid you drive business objectives wisely.
The GCP-PCA certification test is designed for Cloud professionals with capabilities and living experience of the Google Cloud Platform workspace. It is a 2-hour exam that can be taken after you build a Google Cloud Webassessor account. You can also take it at one of the Kryterion testing centers. Google provides no score at the end of the GCP-PCA exam. Instead, Google issues the "Fail" or "Pass" results. If you have failed, you will have to wait for 14 days before retaking the test.
This Google GCP-PCA exam is known for its difficulty and thoroughness. One can take online courses, on-site classes, or self-paced instructor-led courses to prepare for this test. Also, take some practice tests and check additional topics with exam dumps to be fully equipped.
Career Advantages of Becoming a Professional Cloud Architect
The Professional Cloud Architect GCP-PCA certificate, according to Google, enables organizations to leverage Google Cloud technologies efficiently. Those who hold this credential have all it takes to achieve high availability and scalable solutions to drive its objectives.
You will gain confidence in your knowledge, ability, and proficiency with the Google Cloud Platform environment. The Cloud marketplace is becoming more competitive. A GCP-PCA certification will be a differentiator in such an aggressive environment and can position you ahead of the game.
Conclusion
Once you obtain your GCP-PCA Certification, you will display it on various LinkedIn and other social media sites. It will portray you as someone well-versed in matters of the Google Cloud Platform. And this is where your new journey will start.