Digital transformation has stepped into businesses, and it's here to remain. But even as businesses continue running toward entirely digital operations, many find themselves at risk of leaving behind their genuine business drivers to their employees.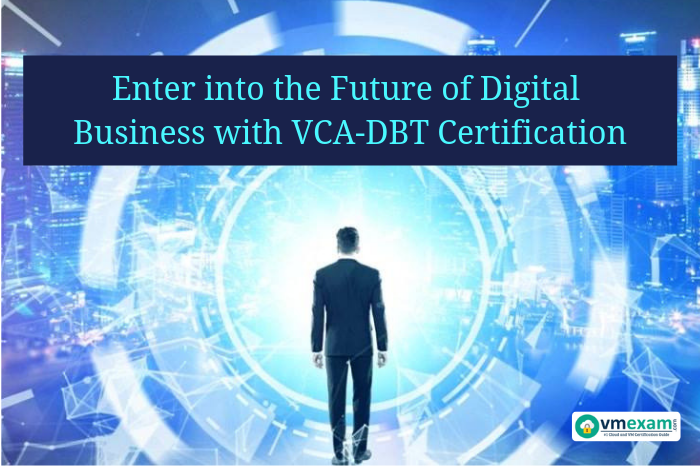 Lately, VMware and Forbes Insights released the results of an annual study analyzing the state of digital workspace technologies and their influence on business and digital transformation. Among other key facts, the survey reported that organizations that fail to give employees immediate access to the apps they require are almost three times less likely to be ranked as leaders in digital transformation by their employees.
VMware Certified Associate - Digital Business Transformation (VCA-DBT) certification is one of the sought after certification that measures the proficiencies of the applicant in VMware portfolio and their expertise in analyzing, identifying, and providing the technical explications. This certification verifies one's knowledge of virtualization ideas and efficiently managing the digital agenda in an enterprise.
VCA-DBT certification is evidence that you understand thoroughly about VMware items and technologies that better VMware Cloud support and Cross Cloud structure solution that combines NSX, vSAN, vSphere, and the vRealize Suite.
As digital transformation remains to accelerate, companies will be on the lookout for people with the skills and knowledge required to provide the tools and applications, manage the difficulties, and take advantage of the opportunities offered by the digital business. And so, the VCA-DBT Certified professionals will stay to be in high demand.
Under VCA-DBT 2020 certification syllabus, you will get complete knowledge about many topics of VMware.
Data Centre Visualization
Network Visualization

VMware, vSphere

vCloud Networking and Security

Site Recovery Manager
Cloud Management and Automation
vCloud Director

vRealize Automation

vRealize Operation

vCenter Configuration Manager
vSAN
Desktop and Mobility
VCA-DBT Certification Exam Details:
The Exam Name is VMware Certified Associate - Digital Business Transformation (VCA-DBT) and the code is 1V0-701.

The time given for this exam is 135 minutes.

The total number of questions is 50.

You will have to score 300 out of 500 to pass this exam, i.e., 300/500.

The Schedule for this exam is PEARSON VUE.

Exam language for this exam is English.
Benefits of VCA-DBT Certification
Though there are various reasons to become VMware certified professional. Some of them are:
VMware certification improves your adaptability and benefits you in your career growth and advancements.

It is well-suited for both the new and experienced professionals to advance their knowledge and get recognized in the organization, they are working.

VCA-DBT certification assists you in choosing the right path for your career and expands the job prospects.

This gives you acknowledgment as a VMware certified professional.

It gives evidence that your technical expertise and skill is up to the mark.

You can utilize the certification logo.

It opens the doors for excellent career opportunities.

You will get discounted entry to VMware events.

The VCA-DBT 2020 certification presents your access to the remarkable portal and logo merchandise store.

You are invited to classes and Beta exams.

VMware Digital Badge

Discounts from VMware Press

Official Transcripts
Job Profiles for VCA-DBT 2020 Certified Professionals:
System Engineer

Technical Consultant

Network Specialist

Network Consultant

Network Engineer

Network Administrator

Network Support Specialist
VMware presents virtualization for IT infrastructure in a data center cloud and mobile devices and is highly prevalent in the IT world. Getting certified in VMware 1V0-701 will give you prominent acknowledgment with great opportunities in career. You will also get VMware digital badge with some discounts in VMware press and events. Earn this certification, and you will get several job prospects and benefits.