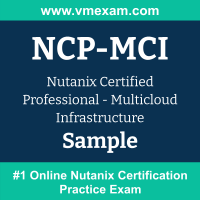 We have prepared Nutanix Certified Professional - Multicloud Infrastructure (NCP-MCI) certification sample questions to make you aware of actual exam properties. This sample question set provides you with information about the Multicloud Infrastructure exam pattern, question formate, a difficulty level of questions and time required to answer each question. To get familiar with Nutanix Certified Professional - Multicloud Infrastructure (NCP-MCI) exam, we suggest you try our Sample Nutanix NCP-MCI Certification Practice Exam in simulated Nutanix certification exam environment.
To test your knowledge and understanding of concepts with real-time scenario based Nutanix NCP-MCI questions, we strongly recommend you to prepare and practice with Premium Nutanix Multicloud Infrastructure Certification Practice Exam. The premium Nutanix Multicloud Infrastructure certification practice exam helps you identify topics in which you are well prepared and topics in which you may need further training to achieving great score in actual Nutanix Certified Professional - Multicloud Infrastructure (NCP-MCI) exam.
Nutanix NCP-MCI Sample Questions:
01. Which three cluster operations require an administrator to reclaim licenses?
a) Destroy a cluster.
b) Upgrade a cluster
c) Migrate a cluster
d) Remove a Node from a cluster
e) Move Nodes between clusters.
02. An administrator needs to bring down a host in a Nutanix Cluster for maintenance reasons. The administrator puts the host in maintenance mode. What should the administrator do to perform an orderly shutdown of the CVM?
a) Enter Fever off Server - immediate from the IPMI console.
b) Execute the cvm_shutdown -P new command from the CV
c) Enter Fewer off Server-orderly Shutdown from the IPMI console.
d) Execute the cvm_shutdown -P now command from the host.
03. Administrator is creating a Windows 10 VM that will be used for a virtual desktop template. After creating the VM and booting to the ISO, the administrator is unable to install Windows and receives the following error. We couldn't find any drives. To get a storage driver, click Load dr1ver.
What steps does the administrator need to take to install the OS?
a) Load the Nutanix VirtIO Serial Bus Driver.
b) Load the VirtIO Network Ethernet Adaper.
c) Load the Nutanix Virtual Balloon Driver.
d) Load the Virtual SCSI pass-through controller.
04. When a configuring a syslog server in Prism Central, what two pieces information are required?
a) IP address/port
b) Encryption secret
c) HTTPS URL
d) Transport protocol
05. During an AHV upgrade, an administrator finds that a critical VM was powered off rather than migration to another host. Which scenario explains this behavior?
a) The VM OS hung during migration.
b) NO AHV hosts were able to be scheduled.
c) The VM was marked as an agent VM.
d) The VM was on the same host as the acropolis leader.
06. A user running a Computer Aided Design (CAD) application is complaining about slow response time within the VM, particular when moving windows or rendering images. Which VM metric will guide the administrator toward diagnosing the problem?
a) Storage Controller Latency
b) GPU Usage
c) Swap in Rate
d) Hypervisor Memory Usage (%)
07. In which two scenarios is an automated live migration likely to occur?
a) AOS upgrade
b) Hypervisor upgrade
c) Cluster resource hotspot
d) Network upgrade
08. An administrator manages an AHV cluster that is dedicated to a dev/test environment. The administrator receiving complaints from users that they are unable to create new VMs on the cluster.
After the reviewing the cluster, the administrator finds that the memory resources are almost fully utilized, with many VMs over-provisioned on memory.
What option is the most efficient resolution to enable additional VMs to be created?
a) Enable Memory Overcommit on the over-provisioned VMs.
b) Enable Memory HA on the over-provisioned VMs.
c) Upgrade the nodes with additional memory DlMMs.
d) Disable HA Reservation on the cluster.
09. On a Nutanix cluster, what does Network Segmentation refer to?
a) A distributed firewall for security VM to VM traffic.
b) Physically separating management traffic from guest VM traffic.
c) Isolating intra-cluster traffic from guest VM traffic.
d) Isolating management traffic from storage replication traffic.
10. Where can an administrator change a CVM password?
a) KMS Server Terminal
b) CVM setting in Prism Element
c) CVM setting in Prism Central
d) Prism CVM VM Console
Answers:
Question: 01




Answer: a, d, e

Question: 02




Answer: b

Question: 03




Answer: d

Question: 04




Answer: a, d

Question: 05




Answer: c

Question: 06




Answer: b

Question: 07




Answer: b, c

Question: 08




Answer: a

Question: 09




Answer: c

Question: 10




Answer: d
Note: Please update us by writing an email on feedback@vmexam.com for any error in Nutanix Certified Professional - Multicloud Infrastructure (NCP-MCI) certification exam sample questions