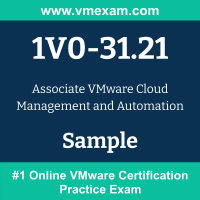 We have prepared Associate VMware Cloud Management Automation (1V0-31.21) certification sample questions to make you aware of actual exam properties. This sample question set provides you with information about the VCTA-CMA 2022 exam pattern, question formate, a difficulty level of questions and time required to answer each question. To get familiar with VMware Certified Technical Associate - Cloud Management Automation 2022 (VCTA-CMA 2022) exam, we suggest you try our Sample VMware 1V0-31.21 Certification Practice Exam in simulated VMware certification exam environment.
To test your knowledge and understanding of concepts with real-time scenario based VMware 1V0-31.21 questions, we strongly recommend you to prepare and practice with Premium VMware VCTA-CMA 2022 Certification Practice Exam. The premium VMware VCTA-CMA 2022 certification practice exam helps you identify topics in which you are well prepared and topics in which you may need further training to achieving great score in actual VMware Certified Technical Associate - Cloud Management Automation 2022 (VCTA-CMA 2022) exam.
VMware 1V0-31.21 Sample Questions:
01. A developer is building a workflow in vRealize Orchestrator and wants to include some code in the workflow by adding a scriptable task element.
Which three runtimes can be used?
a) Ruby
b) Python
c) PowerShell
d) Node.js
e) Perl
f) Java
02. What is the role of vRealize Network Insight in the Cloud Management solution?
a) It provides the ability to provision Network resources across private and public clouds.
b) It provides the ability to perform Cost Management of network resources.
c) It provides intelligent operations for software-defined networking and security.
d) It provides Lifecycle Management for NSX-T environments.
03. A cloud-only company has a small team of developers working on developing applications using public cloud native services.
The company would like to invest in a platform that is capable of automating the delivery and lifecycle of services across multiple clouds using a self-service catalog.
Which solution should the customer choose?
a) vRealize Operations Cloud
b) vRealize Automation
c) vRealize Operations
d) vRealize Automation Cloud
04. Which on premises vRealize Operations component allows visibility into the entire federated environment through a unified view across all on-premises vRealize Operations deployments?
a) vRealize Operations Aggregator Management Pack
b) vRealize Multi-Node Management Pack
c) vRealize Remote Collector
d) vRealize Cloud Federated Analytics
05. An administrator has been tasked with onboarding a new public cloud vendor into vRealize Automation so a project can deploy resources to the public cloud.
Which step should the administrator take first?
a) Run on Onboarding Plan.
b) Add a new Cloud Account.
c) Create a new Integration.
d) Configure a new Cloud Zone.
06. Which two log bundle types can be generated in vRealize Operations in the event of an error which requires a support ticket?
a) Full
b) Complete
c) Custom
d) Comprehensive
e) Light
07. An administrator has created a custom dashboard in a development instance of vRealize Operations Manager (vROps). The administrator needs to move the dashboard in to the Production vROps instance.
Which feature of vRealize Suite Lifecycle Manager should be used to complete this task?
a) Locker
b) Marketplace
c) Lifecycle Operations
d) Content Management
08. Which three sets of high level dashboard categories are provided out-of-the-box as dashboard folders?
a) Visibility
b) Scalability
c) Availability
d) Capacity
e) Price
f) Performance
09. To reduce the possibility of unnecessary outages to critical production applications, an administrator has been tasked with ensuring that all shut down and reboot Day 2 operations for deployments within a project are only completed if the service owner gives permission.
Which type of Service Broker policy should an administrator configure to meet this objective?
a) Resource Quota
b) Lease
c) Day 2 Action
d) Approval
10. Which two capabilities does vRealize Automation offer?
a) Multi-cloud automation with governance
b) App-aware intelligent remediation
c) Multi-cloud cost reporting
d) Multi-cloud monitoring with alerting
e) Deliver self-service clouds
Answers:
Question: 01




Answer: b, c, d

Question: 02




Answer: a

Question: 03




Answer: b

Question: 04




Answer: d

Question: 05




Answer: a

Question: 06




Answer: a, e

Question: 07




Answer: d

Question: 08




Answer: c, d, f

Question: 09




Answer: c

Question: 10




Answer: a, e
Note: Please update us by writing an email on feedback@vmexam.com for any error in VMware Certified Technical Associate - Cloud Management Automation 2022 (VCTA-CMA 2022) certification exam sample questions