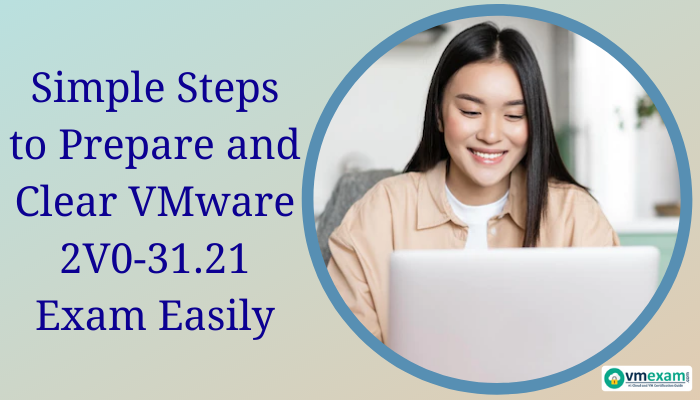 The VMware 2V0-31.21 certification validates your ability to install, configure and administer a VMware vRealize environment, used to automate critical processes within your Data Center in a repeatable, scalable way that leads to efficiency and enhanced productivity. These skills enable you to simplify and standardize the more complex day-to-day activities, increasing your credibility and value within the organization.
This study guide aligns with the exam blueprint for the Professional VMware vRealize Automation 8.3 (2V0-31.21) exam, which leads to the VMware Certified Professional - Cloud Management and Automation 2022 certification. The exam is 130 minutes with 67 questions.
This study guide has been created to help you study for the exam, but I hope you find this helpful in your preparation. If you want official training to prepare for the exam, please refer to VMware Learning.
VMware 2V0-31.21 Certification Preparation Tips
Let's walk through the process we just outlined. If you observe these steps, you will put yourself in the best position to earn your VMware badge so you can confidently move on to the next level.
1. Download the 2V0-31.21 Exam Guide
Each certification has an exam guide that delivers a broad overview of what is covered in the exam.
2. Review the 2V0-31.21 Sample Questions
VMware also provides a set of 2V0-31.21 sample questions and answers. Use this to get familiar with the available style and types of questions to expect. The tests are multiple-choice, though some questions have more than one correct answer.
It might seem counterintuitive to start with the test before training and taking classes. However, a sample test can deliver a baseline and assess what you already know and need to focus on.
3. Training
VMware provides instructor-led training that is available in person or online. It also offers digital training that can be completed at your own pace, and you can also try various third-party training services.
4. Take a 2V0-31.21 Practice Exam
Also known as practice tests or exam simulators, this is the single biggest thing that can be the difference in just passing the 2V0-31.21 exam or scoring well. Several alternative sites offer tests, sometimes delivered in a simulated testing environment.
5. Take the Test
It is the big day. However, you cannot reference any devices or ask for help how or where you take the test. Online proctoring means you must take the test in a private room and remain in the view of a webcam throughout the process. The 2V0-31.21 exam is invalidated if anyone else enters the room, if you open another tab on your computer, or look anything up on a phone or a book. Make sure to utilize the bathroom before it starts; you cannot leave the room during the test.
6. Study Groups
Get in touch with a study partner, if possible. Together, you can earn more. The partner also can aid you in staying motivated when you feel under pressure. You can also become a member of good, active groups like LinkedIn or Facebook on social media.
Anyone can pass the 2V0-31.21 exam on their first try if they study and put their mind to it. The best way to properly prepare for the exam is by getting a review course that works with your learning style.
On VMware 2V0-31.21 Exam Day
1. Slow Down
One of the reasons people fail the VMware certification exam is that the clock influences them, which affects their comprehension. Of course, the test will be timed. Do not panic. Slow down and read every question carefully. When you read questions or instructions impatiently, you will be more apt to misinterpret the meaning or miss something important. Keep in mind that there are no bonus points for completing the test quickly. Even if you are pressed for time, you will improve your odds of success if you comprehend the intention of each question in the trial. Be wise!
2. Double-Check Your Work - If Time Allows
Checking your work is essential in any exam, and the 2V0-31.21 certification test is not an exemption. However, we cannot shun away from the act that this is impossible. VMware exams are timed, and finding the time to double-check your answers can be extremely valuable. If you are lucky to satisfy the test fast, do not rush to submit it.
Make use of all the allotted time to provide you have answered everything correctly. If you find errors in what you have already done, do not hesitate to make changes. Make sure you mark questions for review if you are not 100% certain of the answer.
3. It Is OK to Not Know Everything on the 2V0-31.21 Exam
Sometimes, you may not understand the answer to a question, and you might not even remember information that could help you make an educated guess. Do not be flustered if this happens. Remember, if the 2V0-31.21 certification exam were easy, cloud computing practitioners would not be so highly regarded.
Final Thoughts on 2V0-31.21 Exam Preparation
Preparation for your VMware exam should start as soon as you decide this is what you need to grow your career. With these tips at your disposal, you are well set for your 2V0-31.21 exam preparation and can start the journey towards your long-awaited promotion or a lucrative job in your ideal company. Cloud computing is exploding in favor, and now is a great time to start learning VMware - the leading cloud computing platform.