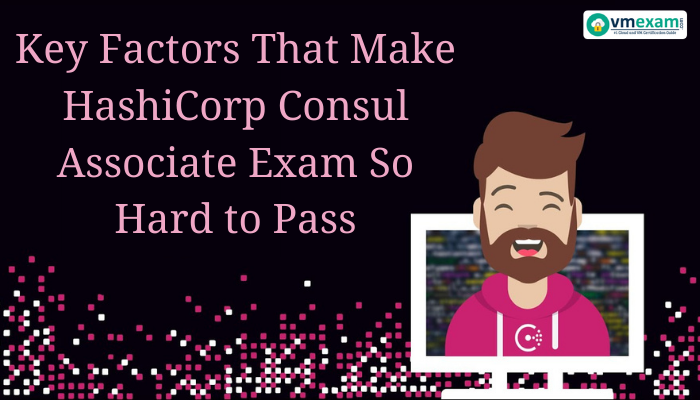 Consul Associate: HashiCorp Certified Consul Associate
The HashiCorp Certified Consul Associate exam is built for Site Reliability Engineers, Solutions Architects, DevOps professionals, or other Cloud Engineers. The HashiCorp Certifications are designed to help technologists demonstrate their expertise with fundamental capabilities required in today's multi-cloud world.
Organizations of all sizes have adopted cloud technology and adopted a cloud operating model for their application workloads. This new computing model is essentially multi-cloud and driven by a requirement for heterogeneous, on-demand, self-service infrastructure, identity-based secure access, and dynamic, flexible network perimeters separate from physical servers.
We understand that the job of cloud engineers and the mastery it requires over the new competencies in these multi-cloud environments will play a critical role in helping thousands of companies transform their IT investments.
You will learn about the fundamental concepts and skills to make, secure, and maintain open-source HashiCorp Consul. Moreover, candidates will be best prepared for this exam with professional experience using Consul in production, but performing the exam objectives in a unique demo environment may also be adequate.
This course is designed with two primary purposes: to teach HashiCorp Consul's basics and arm folks with the information to pass the Consul Associate exam. Although the study was designed around the Consul Associate exam objectives, the path goes over a wealth of Consul topics to get even the most beginner person up to speed with Consul. And hey, if you are already working with Consul, you might learn some stuff as well.
Prerequisites
Containerization knowledge

Basic terminal skills

Networking skills, including load balancing and distributed systems

Understand the purpose of ACLs

Experience with TLS certificate lifecycle
HashiCorp Certified Consul Associate Exam Preparation
To assist you prepare for the HashiCorp Certified Consul Associate certification exam, we have created three tools.
If you are relatively new to the HashiCorp Consul Associate exam, we have built a curated list of Learn guides, scenarios, and documentation pages covering the exam core objectives, organized sequentially to support practitioners learn from first principles.

If you are experienced with our tools, we have created a complete review guide that knows root documentation for each topic tested to help you pinpoint particular areas that you may want to brush upon.

We have presented examples of what types of questions to expect on the exam. These include multiple-choice, multiple answers, and text match-style questions.
Taking the HashiCorp Certified Consul Associate Exam
The HashiCorp certification exams are taken online and promoted by a proctor via video conferencing. The proctor proves your identity, goes over exam plans and stays with you during your exam. You can take the exam at home or work rather than driving to a testing center, and there are exam appointment slots in all time zones.
The proctor is responsible for assuring that you do not receive in-person, audio, or digital assistance during the exam. Those exam procedures have happened correctly for the duration of the test. To improve your likelihood of success, please make sure that you attend the exam with a clear desk, where you will not be interrupted and can be visible via webcam for the actual test. You will get a list of the entire exam rules when you sign up.
Sharing Results
HashiCorp will apprise you of your test results instantly upon HashiCorp Certified Consul Associate exam completion. Sharing your badge via social media such as LinkedIn, Facebook, and Twitter links back to a real-time verification feature that explains your qualifications and lets you gain instant attention from your professional network.
You can also combine the badge in your email signature, digital resume and embed it on your website or blog. Once you get your first HashiCorp certification badge, you can share it on social media.
Schedule Your HashiCorp Consul Associate Certification Exam
HashiCorp exam platform manages the certification exams and requires practitioners to create an account, purchase, schedule, and take the exam. You can schedule a Consul Associate exam today. Consul and advanced exams are coming soon. HashiCorp is committed to assisting you in solving some of the most challenging cloud engineering problems. They expect that the HashiCorp Certifications will become the benchmarks for multi-cloud competency that enterprises, system integrators, and technology companies will use to assure the success of their digital infrastructure efforts.