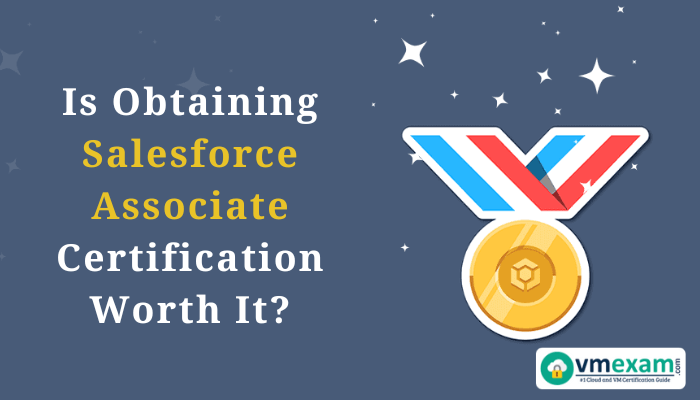 A common question for many at the beginning of their Salesforce journey is: "Which certification should I do first?" After all, there are so many to choose from!
Over the years, We've typically recommended Administrator. We have also caveated this. For example, the Administrator Certification is not easy. The syllabus has both breadth and reasonable depth. This is understandable given the importance of the Administrator role in an org. For new starters, it does mean that there is quite a 'step up' to achieve this goal.
Salesforce's new introductory certification attempts to address this. It is not a 'professional' certification but provides a more straightforward first step.
Salesforce Associate Certification
Passing the Salesforce Associate Certification exam is an excellent method to show initiative when you want to break into the Salesforce ecosystem or prove to your employer that you are ready to dive deeper into Salesforce. Whether you are a fresh graduate looking to establish a career in the world of technology or you are an experienced professional seeking a career change, Salesforce is always an intelligent option.
For far too long, the Salesforce Administrator Certification, which was traditionally the first level of credential to validate your Salesforce knowledge, has daunted beginners due to the broad depth of topics to cover. Studying the 68-hour-long trailhead has indeed been a powerful barrier for beginners, as well as some experienced folks looking to get certified.
Salesforce Associate Exam Purpose
The Salesforce Certified Associate exam is intended for:
Candidates who may be new to the Salesforce ecosystem are interested in understanding and using the Salesforce Customer 360 Platform. Salesforce Associate candidates desire to learn the Salesforce platform and standard business use cases. They may decide to explore a Salesforce career or be on the path to becoming a Salesforce Certified Professional. Understanding reporting, user administration, sharing, customization, and data management at a foundational level is beneficial.
The Salesforce Certified Associate Certification exam is designed for those at the beginner level and approves their fundamental knowledge of Salesforce as a platform and its functionalities.
Is It Worth It to Get Salesforce Associate Certified?
Salesforce is known as one of the best software companies in the world. They have hundreds of thousands of customers, including Google, and are also the most significant cloud platform in the world. Many businesses use Salesforce to manage their marketing and sales. But what if you aren't ready to quit your day job yet? Salesforce offers Associate certifications that may help you gain more experience in sales while also giving you some extra opportunities to develop your career.
The Significance of the Salesforce Associate Certification
The introduction of the Salesforce Associate Certification fills a vital gap in the Salesforce certification landscape. Previously, individuals who were new to Salesforce needed an appropriate certification that could validate their foundational knowledge of the platform. With this certification, beginners now have a tailor-made credential that caters to their needs, ensuring they have an appropriate starting point in their Salesforce journey.
The Salesforce Associate Certification is designed to engage and motivate individuals curious about following a career in Salesforce. This certification not only caters to those on the administrator career path but also to professionals from various backgrounds who need to interact with Salesforce in their day-to-day roles.
Top Reasons to Get Salesforce Associate Certification
1. Skill Validation and Credibility
Earning this certification is a testament to your expertise and understanding of the Salesforce platform. This credential validates your knowledge and skills, showing your dedication to staying current with the latest Salesforce technologies and best practices. As a result, you can boost your credibility among peers and potential employers.
2. Increased Job Opportunities
As organizations continue to adopt Salesforce, the demand for certified professionals grows. A Salesforce Associate Certification positions you as a valuable candidate in the eyes of employers, enhancing your chances of being considered for a broader range of job opportunities in the Salesforce ecosystem.
3. Higher Earning Potential
Certified Salesforce professionals often command higher salaries compared to their non-certified counterparts. By investing in this certification, you not only enhance your skills but also increase your earning potential, paving the way for salary raises, promotions, or better job offers.
4. Networking Opportunities with Salesforce Associate Certification
The Salesforce community is vast, diverse, and closely connected. By earning an associate-level certification, you can access a network of like-minded professionals who share your passion for Salesforce. Engaging with this community can lead to collaboration opportunities, mentorship relationships, and even job referrals, which can be invaluable for career growth.
5. A Strong Foundation for Further Salesforce Certifications
The Salesforce Associate Certification provides a solid foundation for seeking more advanced Salesforce certifications. As you progress in your career, you can build upon this foundation to specialize in specific areas, such as administration, development, or consulting, further enhancing your marketability and expertise.
Summing Up
By considering how this certification fits into your overall career trajectory and aligning it with your objectives, you can confidently determine its value for your career. Taking this step can set you on a path toward success and growth in the ever-evolving world of Salesforce. Salesforce Certified Associate must be prepared to show they can meet all the qualifications for your position. The better qualified you are, the more likely you are to land that role.
So, the more you can prove to potential employers that you meet their qualifications, the better your chance to get the job.