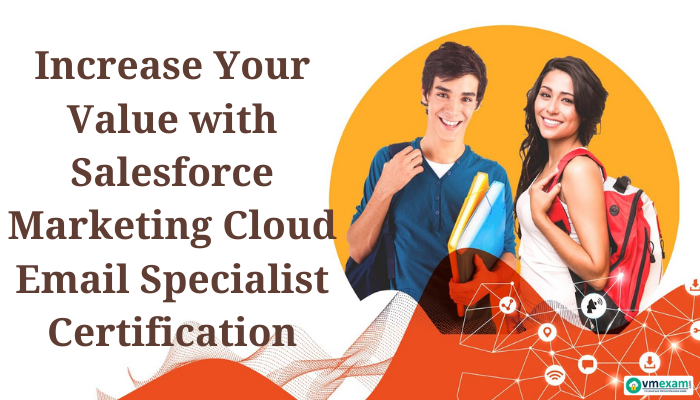 Salesforce Certification presents exam policies to support the candidates by giving every detail related to the certification program. The MCES exam policies help candidates understand and gather all the necessary information about after the exam or before exam procedures. This includes the exam retaking process, rules to be followed during the Salesforce Marketing Cloud Email Specialist exam time, and other information about the exams and its testing centers.
While preparing for the Salesforce Marketing Cloud Email Specialist exam, you will be solely responsible for understanding and complying with the Salesforce Community Cloud Consultant Exam policies, together with the specified exam delivery provider's policies and procedures.
Salesforce Marketing Cloud Email Specialist
A Salesforce Marketing Cloud Specialist presents the information and skills for using Marketing Cloud for message design, subscriber and data management, inbox delivery, and outside integrations. The candidates are expected to understand how to build marketing campaigns while utilizing a content system, segmentation, automation, tracking, and analytics to make data-driven choices to optimize email campaigns.
Along with this, the applicants should also have the expertise, experience, and skills to drive intelligent data models, send emails using an email application, build complicated email automation, and generate reports of email tracking data.
The credential Salesforce MCES exam contains 60 multiple choice questions to be completed within 90 minutes. The exam's passing score is 65%, and the registration fee is $200.
Why Learn Salesforce Marketing Cloud Email Specialist?
Email marketing makes the top ROI of all digital marketing channels and is still one of the critical methods brands use to communicate with their customers. The demand for email marketers remains to soar, especially those with the skills in Salesforce. Salesforce is one of the world's top CRM platforms that underpins mass, electronic, and personalized customer journeys to meet the requirements of a demanding, diverse, and global audience.
Created to address the market's fundamental skills gap, this Salesforce Platform Developer course will give you strong technical capabilities and a vital marketing skillset to deliver real customer value. Learn how to combine with your audience through customized email marketing, make data-driven decisions with powerful insights, and create cross-channel campaigns. You will directly apply your skills in a marketing cloud demo environment - a unique aspect of this course and earn real technical experience with the Trailhead platform.
Salesforce Marketing Cloud includes several world-class tools and functionalities to help you design and implement outstanding email marketing campaigns for your brand. But to make the most of it, you require a team that understands your business needs, help you gain valuable customer information, and allows you to deliver exceptional brand experiences across all your marketing channels, including email.
A trusted Salesforce Marketing Cloud Specialist would work with you to identify requirements and create a viable plan for Salesforce Email Marketing automation in your organization.
Benefits of Getting Salesforce Marketing Cloud Email Specialist Certification
Being only a functional manager in Salesforce would not be enough without technical expertise. A project manager must get into the details of the project even if it involves code.
As such, getting Salesforce Marketing Cloud Email Specialist certified has lots of benefits for you and your team:
1. Better Scheduling:
Get better at scheduling work for your team; as a certified project manager, you now know which item wise tasks should be prioritized to get a job completed by your team.
2. Understand Estimates:
You will have a better understanding of estimates for the tasks. You would know how many hours a process builder task takes if an apex trigger is required and how complex or straightforward a particular task is.
3. Technical Advice:
You will be helping the team and advice technically if needed, along with your Technical Architect. Combining practical experience with theory and the best methods aids create a real and lasting understanding of a subject.
4. Feel Valued:
You will be better equipped with Salesforce knowledge in your meetings. Going ahead with the business in confidence leads to positive results. Within the team and your organization, you will feel more valued as you contribute beyond the expectations.
Opportunities After Salesforce Marketing Cloud Email Specialist Certification
Salesforce is being used by a majority of the Fortune 500 companies. Also, Salesforce has approximately 20% of the global CRM market, making it the highest job creator. It consists of several fields for which you can seek certification.
Salesforce certification allows getting an attractive payroll too. According to Forbes, unlike other sales profiles, Salesforce Marketing Cloud Email Specialist certification gives an 8 percent higher salary for the salesperson. According to Salesforce market reports, there will be 4.2 million new jobs, and the business revenue will reach up to US$ 1.2 trillion in 2024.
Ultimately, a Salesforce Marketing Cloud Email Specialist certification course will set a benchmark on your skillset and uplift your profile for becoming shortlisted for several Salesforce jobs. Therefore, if you require a developer, administrator, architect, specialist, or consultant, Salesforce can offer you all you want.
The salaries for Salesforce Marketing Cloud Email Specialists are among the best in the industry with unnecessary growth opportunities. So, it is deserving of going for a Salesforce Marketing Cloud Email Specialist certification.