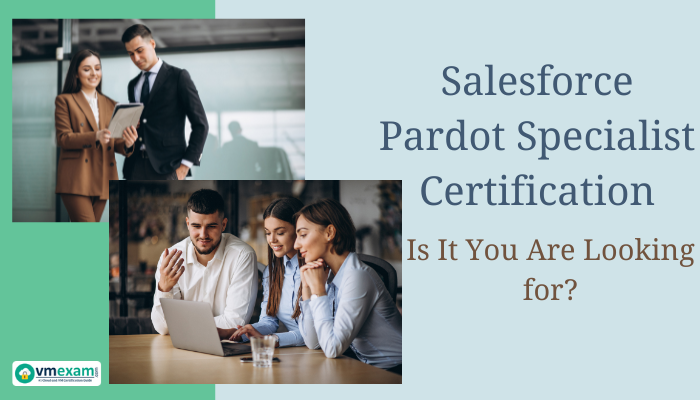 Today is the best time for you to consider your profession and achieve your career goals. You will be able to do this without the hassle. The Salesforce Pardot Specialist certification exam is a critical milestone in your Marketing Automation career, developed to get you up to speed as a Pardot Power user. That is what we mean by 'day-to-day Pardot mastery.'
About Salesforce Pardot Specialist Exam
Salesforce Pardot Specialist is a popular Salesforce product that is well-regarded in the job market. Certified individuals on staff are a crucial indicator of expertise when evaluating consulting partners. With the recent rise of marketing automation, we have noticed more organizations prefer experts with Salesforce Pardot Specialist credentials.
The Salesforce Certified Pardot Specialist program is designed for individuals with experience implementing the Pardot application and can explain Salesforce administration concepts related to Pardot features. The Salesforce Certified Pardot Specialist has experience with Pardot administration and configuration, and can successfully design and implement Pardot solutions that meet customer business needs, are maintainable and scalable, and contribute to long-term customer success.
As a result, the Salesforce Pardot Specialist CRT-160 certification is the standard Salesforce certification goal for marketers who are already familiar with designing and implementing marketing assets and methods in Pardot.
The Salesforce Pardot Specialist CRT-160 certification is for individuals who want to show their skills and understanding in designing and building marketing campaigns within Pardot. Salesforce Pardot Specialist Certification is a marketing credential offered by Salesforce to marketing operations experts who have passed the CRT-160 certification exam. To acquire this credential, the candidate must register for the Salesforce Pardot Specialist Certification.
With Salesforce Pardot Specialist Certification, Smoothen Your Journey
To begin with, becoming Pardot Specialist Certified can immensely benefit you! It enables the candidate to review fundamental marketing concepts, revisit old ones, and learn new ones! While studying for this exam, the candidate's marketing knowledge becomes much more systematic and organized.
Next, passing the exam improves their career prospects and demonstrates to current and future employers that they are knowledgeable about marketing automation. Furthermore, building trust with their boss and peers may be more significant than a pay increase. If the candidate has used Pardot regularly, they should take this exam and be able to use Pardot like the back of their hand. Furthermore, it would be best if you were well-versed in the main characteristics and add-on products.
Furthermore, the Salesforce Pardot Specialist Certification will boost the candidate's market value and expand job invitations when they promote their certification on social media.
How Does Pardot Specialist Certification Add Value to Your Career in Salesforce?
However, if they believe that there are more compelling reasons to obtain your certification, let us ensure you that becoming certified will boost your confidence when discussing marketing automation and Pardot.
Pardot Specialist focuses on building strategic marketing processes while incorporating tools like lead scoring, email marketing, and lead generation and using reports to make data-driven decisions. The key is to revise the concepts. Though the content is limited, it is challenging to remember all the opinions the first time, especially for the ones who have yet to have prior hands-on.
Working within IT for most companies today almost always means you will have to take a certification exam at some point. You must take a Salesforce Pardot Specialist Certification exam if you are a network engineer. Accepting and passing a Pardot Specialist exam is a challenging thing.
If you are a high school graduate, taking this Salesforce Certified Pardot Specialist exam can create many opportunities for you. However, if you wish to take this test, then it is recommended that you have a little experience in working with technology.
You have often heard people talking about Salesforce certifications, and you might have wondered what it would take to become one. This will answer some of your questions regarding the Salesforce Pardot Specialist certificate and the process you need to go through.
Summary
Clearing the Salesforce Pardot Specialist certification can give you a lead in your career. Moreover, these relevant certifications can provide a boost to your resume. Decorate your resume with these certifications and get the first preference for job placements. Also, the Salesforce certifications are short-term and easy to complete, giving you the benefit of time.