The immense possibilities in the field of virtualization involve professionals having consistent awareness and skills. VMCE certification is designed to promote Veeam professionals differentiate themselves from other IT experts through their performance and by reducing company costs.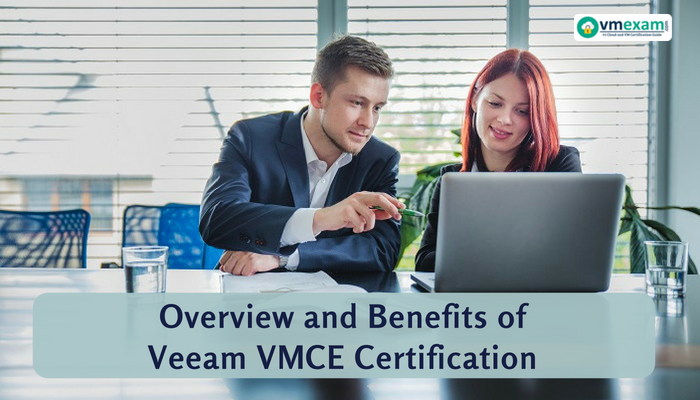 VMCE certification is a new program launched by Veeam in 2014 certifying your experience and skills to present a wide array of tasks with Veeam solutions. It proves that you hold the significant level of technical expertise to correctly architect, implement, configure and troubleshoot Veeam products. Today, Veeam certification is accessible in Europe and North America.
The Veeam Certified Engineer (VMCE) certification is a technical deep-dive that gives comprehensive information on Veeam solutions.
The VMCE certification is registered evidence that an engineer possesses the required level of expertise to deploy accurately, configure and administrate Veeam Availability Suite V9. It is a great investment for an IT professional resembling to boost productivity, decrease operating costs, launch personal career advancement and achieve industry recognition.
Veeam Certified Engineer (VMCE) Certification Exam Overview:
The VMCE exam includes 50 randomized questions from each of the course modules. You will have to answer the question in 60 minutes. After passing the final exam with a minimum score of 70%, you will achieve the VMCE certification.
The
VMCE Certification Includes 10+ Modules Covering the Following Topics:
Deployment and configuration (solution architecture, deployment scenarios, etc.).

Overview of Veeam products (key features, backup methods, retention policy, etc.).

Performing backup, replication, SureBackup, SureReplica, data recovery and more.
Target Audience:
The VMCE certification is proposed for system engineers, backup and virtualization admins, solution architects, consultants and any other IT professionals practicing Veeam solutions (end-users and partners). Before taking the course, you as a participant should have a genuine understanding of virtualization, backup and recovery principles.
What Will You Achieve After Passing the
VMCE
Certification Exam?
By becoming a Veeam Certified Engineer, you will have the way to all of the advantages provided to the VMCE community, including:
You will be empowered to share your transcript with other IT professionals to demonstrate that you passed the final exam and show your improvement toward virtualization technologies.

You will obtain access to "No queue for you" phone support, meaning you will have direct access to support for critical onsite issues.

You will be permitted to use the Veeam Certified Engineer logo publicly.
Skills Covered by VMCE Certification:
The VMCE certification give Veeam experts information that is highly sought-after for executing Veeam solutions.

Identify and resolve issues more accurately

Get more functionality out of Veeam solutions

Distinguish yourself from your peers
Gain the professional advantage with the highest level of Veeam technical certifications (VMCA).
How to Update Your VMCE certification?
It is essential that to keep your Veeam certification as a valuable measure of your intelligence. This can be accomplished through re-certification of your main Veeam solutions. As a VMCE, you can upgrade your certification within 120 days of the release by taking up the advanced course and pass the exam equivalent to that course. In case you fail to clear the exam, you will be provided another 90 days' time to make a second attempt at finishing the full course and passing the final exam. However, if you still fail to upgrade, your certification will be dismissed.
Benefits of VMCE Certification:
The VMCE certification confers knowledge that is significantly expected for applying Veeam solutions. Veeam professionals can access the benefits available to the VMCE domain. When you become a Veeam Certified Engcertified inner, you can:
Classify and solve virtualization issues precisely;

Take more functionality from Veeam solutions;

Get the professional advantage with the topmost level of Veeam technological certification;

Make use of the Veeam Certified Engineer badge publicly;

Obtain direct access to phone support without getting held in a queue which means you can openly access help for related onsite problems.

Getting VMCE certification gives you precise identification in the IT industry. It opens up the opportunity to appear for high-level certifications such as VASP (Veeam Accredited Service Partner). You can haughtily show your certification to other IT experts to confirm that you received the VMCE certification and confirm your advancement toward virtualization technology.