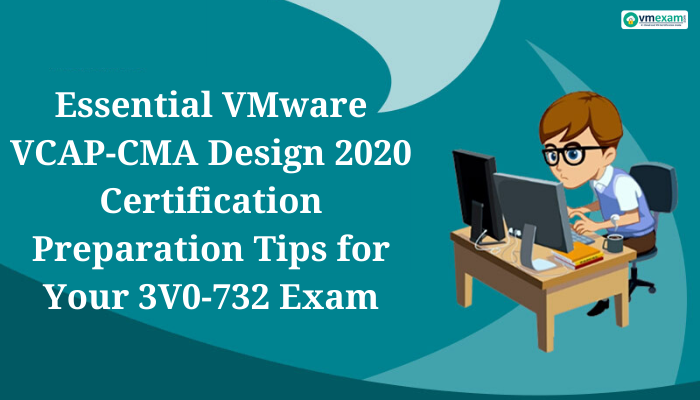 VMware is a well-known name in the IT industry as far as desktop and server software virtualization are concerned. No doubt, they play a significant role in many IT operations. Various credentials equip the candidates with the knowledge and skills necessary to function in desktop and server software virtualization and VMware VCAP-CMA Design 2020 (3V0-732) Certification is one of the exams offered.
Change is one of the phenomenal phases in our life. So the difference in VMware domain is also remarkable. Do not matter where you are, and you always want to go more above. The same is the case on the VMware Certified Cloud Management and Automation Design certification exam. If you need to give your career another push, then the most suitable approach should be Advanced Level VMware VCAP-CMA Design 2020 3V0-732 exam cram.
The 3V0-732 exam tests a candidate's ability to design a VMware vRealize Automation 7.2.0 solution by validating product and technical awareness as well as the ability to analyze, assess, and create solutions.
The VMware 3V0-732 Certification Exam
The exam consists of 60 questions, and you have 135 minutes available. Often the questions are multiple-choice, but there might be a few drags and drop ones as well.
Some of the questions had a lot of text and wanted more time for reading and knowledge. As for most exams, the key is to understand the question and what they are asking for. This is maybe one of the most important things to prepare for in this exam, at least if you, like me, is not that encountered in design questions.
The questions in this exam related to the VCP level were a bit trickier and, again, as expected, more concentrated on selecting the correct architectural alternative. There were a few questions were none of the other options seemed to be the answer, but by rereading the question, you understand that you need to find the best alternative.
It is a truth well-known all around the world that no pains and no gains. There is another proverb that the more you plow, the more you gain. When you pass the VCAP-CMA Design 2020 exam, which is well recognized wherever you are in any field, then take the VCAP-CMA Design 2020 certificate, the door of your new career will be open for you, and your future is bright and hopeful.
Tips for VMware VCAP-CMA Design 2020 (3V0-732) Certification Exam Preparation
Passing the VMware 3V0-732 certification test wants to map out the right strategy. You require to be strategic about your exam preparation and have a plan to work with. You cannot study randomly and expect to have certainty of success in your exam.
Let us explore some tips that will benefit you have adequate preparation.
1. Read VMware 3V0-732 Study Guide
The study guide will give you a comprehensive overview of what the VMware 3V0-732 exam is all about. You will find the requirements for the test, broad exam objectives, and lots of other information.
By reading this, you are equipped with the fundamental knowledge, and it specifies that you want to study for the test. You can download the official study guide from the exam webpage and go through it at your ease. You should not start your studies without going through the study guide.
2. Attend VMware VCAP-CMA Design 2020 Training Courses
If you are not sure about the training course to sign up for, you should begin with the official suggested programs. VMware offers various training courses for its exams, and 3V0-732 is not an exception. These tutorials are focused on the different topics of the exam in addition to some other tips that will benefit the candidates prepare for their tests.
You can find the links to these training at the VMware 3V0-732 exam webpage. Also, there are many other platforms online that offer instructions to the students to equip them with the information and skills required to excel in the exam.
The training programs are delivered by the expert instructors who have specific knowledge associated with the exam content. The candidates taking them will also be presented with a comprehensive review and a detailed explanation of the exam objectives. In addition to this, you will have entrance to different study resources, tips, and guidance on how to write a test successfully.
3. Acquire Needed Experience
The VMware 3V0-732 test expects that the candidates have both functional and hypothetical skills. In addition to the book knowledge, you also require to acquire hands-on experience. You should explore different labs available at training platforms to obtain factual information that will be necessary for succeeding in the exam.
4. Take Practice Tests
This is the test of your knowledge and skills in the exam goals before writing the actual VMware 3V0-732 exam. In addition to these various practice quizzes and tests, you can also search books, test papers, lab activities, video training, and releases from these sites. There are numerous preparation tools you can enter through the online platforms. It is highly recommended that you take aid from them so you can have a successful exam experience.
5. Plan the Day of VMware VCAP-CMA Design 2020 (3V0-732) Exam
Planning the exam a day ahead will make everything easier on the actual VMware 3V0-732 exam day. Getting all the information and terms of the examination in advance is necessary. Make sure to have a good night's sleep before the exam day.
On the Day of the VMware VCAP-CMA Design 2020 Exam:
You can get up early in the morning, drink the right quantity of water. Eat light nutritious food to avoid drowsiness, sort out, and carry all the essential stationery items, plan your journey, and start a little early to avoid last-minute races.

Travel with a companion who is punctual, and it will make one feel the more positive energy and confidence. You can be reached about 15 to 20 minutes earlier gives you time for mental preparation for the exam. It relaxes you to focus on the task on hand. Positive thoughts that you think can have a calming effect on you.
Summary
Earn VMware Certified Advanced Professional 7 - Cloud Management and Automation Design certification at your first attempt. Firms always look for the VMware certified professional who had a great mindset, who can solve their problems very efficiently, and by acing the 3V0-732 exam, you can have all of those qualities.
Thanks for Reading...!!!