VMware Certified Professional (VCP) certification verifies an individual's expertise in VMware vSphere and its related technologies. This means that a VCP is competent in installing, configuring, administering and supporting data center virtualization in VMware vSphere environment.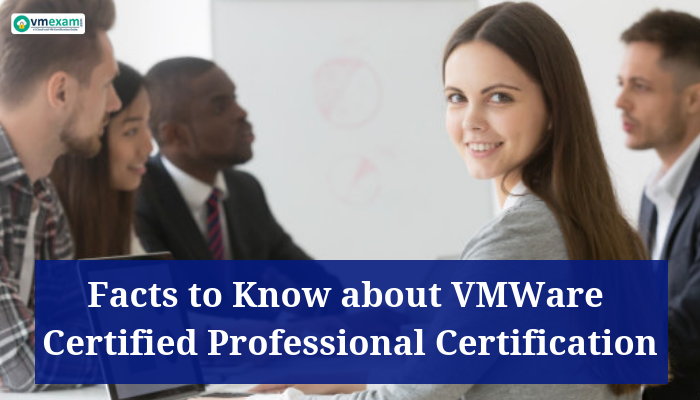 In addition to the essential VMware VCP certification, there are four more fields of expertise for the candidates to take from and specialize in:
Basic Things Required to Understand about VMware Certification
Let us now focus on the five basic things that a candidate must understand before preparing for the exam.
1. Prerequisites:
The certification course requires six months of experience in VMware vSphere implementation, which can also be followed by an equivalent hands-on training and education.

The candidate need also pass the vSphere Foundations Exam and an optional exam to specialize in a particular technology track.

The candidates are expected to receive training for the exam by attending a certification course.
2. Skills Measured in the VCP Exam:
Installing, configuring, upgrading and securing vCenter Server and VMware ESXi

Understanding vSphere Architecture

Configuring vNetwork Standard and Distributed Switches

Creating, deploying and managing virtual machines, VM Clones, templates, and vApps

Backing up or recovering virtual machines using VMware Data Recovery

Troubleshooting vSphere network, storage and ESXi hosts

Configuring VLAN settings
3. Recognition:
VMware is the market leader in virtualization explications and gives a productive career in the field of data center virtualization. VMware certifications increase possibilities for career advancement and provide professional recognition with peers as well as employers.
4. Job Possibilities:
VMware raises the chances of getting hired diverse and that too in a short period and makes you available for job positions such as:
Systems Administrator

Information Technology Manager

Systems Engineer

Data Center Engineer

Solutions Architect

VMware Consultant
5. Salaries:
The average salary for VMware Certified Professionals differs from $67,105 per year for an Administrator to $148,814 per year for a Development Operations Engineer.

The salaries for VCPs are quite charming and increase with the increase in experience.
5 Things You Should Know About VMware Certification
Here is list of five things you should know about VMware certification:
Certification is not a substitute for experience. While this appears to be somewhat profound, the real-world experience cannot be simulated. The VMware certification does have an emphasis on troubleshooting, but unfortunately, this can't be used as a broad-reaching gauge of expertise.

Achieving a VMware certification is the only most potent rounding off of one's external presentation. Each one is crucial in the well-rounded IT professional. For virtualization professionals, the VMware certification creates an excellent cornerstone to that model.

The VCP is becoming reduced. There are quite a few VCPs out there now. Between 2005 and 2007, if you had the experience plus the certification you could be very careful about opportunities. In 2010, the novelty wore off for sure. This is even adding the fact that VMware requires that a course from a VMware Education Services be taken by the advanced VCP.

Hypervisors are not sufficient. To spin out the virtualization professional and this includes non-VMware virtualization, other core technologies such as storage and networking are critical. Traditional IT professionals could become by having core competencies such as Windows server technologies or Linux server skills. With virtualization, you can not put sufficient importance on storage. The more you can be a storage professional with virtualization, the more you can set yourself aside from the rest of the VCPs in the field. Networking can hold the same light, though not as much as storage.

Don't be scared by the VCP test. If you are thinking the VCP certification, by all means, go for it. Besides, there are also lots of new markets for virtualization.