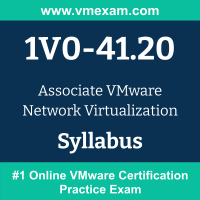 The VMware 1V0-41.20 exam preparation guide is designed to provide candidates with necessary information about the VCTA-NV 2023 exam. It includes exam summary, sample questions, practice test, objectives and ways to interpret the exam objectives to enable candidates to assess the types of questions-answers that may be asked during the VMware Certified Technical Associate - Network Virtualization 2023 exam.
It is recommended for all the candidates to refer the 1V0-41.20 objectives and sample questions provided in this preparation guide. The VMware VCTA-NV 2023 certification is mainly targeted to the candidates who want to build their career in Network Virtualization domain and demonstrate their expertise. We suggest you to use practice exam listed in this cert guide to get used to with exam environment and identify the knowledge areas where you need more work prior to taking the actual Associate VMware Network Virtualization exam.
VMware 1V0-41.20 Exam Summary:
VMware VCTA-NV 2023 Syllabus:
Section

Objectives

Architecture and Technologies

- Identify the basic concepts of SDDC.
- Identify how virtual networking addresses traditional networking challenges.
- Identify the Software Defined Networking (SDN) building blocks.

Products and Solutions

- Identify vSphere networking concepts.
- Identify the VMware products that are part of the SDDC solution.
- Identify the components of vSphere.
- Identify the key features of vSphere.
- Given a use case, identify the product that supports the use case.
- Given a use case, identify the benefits of NSX Data Center.
- Identify how the high-level component of the NSX architecture interacts with the other high-level components.
- Identify the roles of each of the high-level components of the NSX architecture.
- Identify the functionality of the NSX-T features.

Planning and Designing

Installing, Configuring, and Setup

Performance-tuning, Optimization, and Upgrades

Troubleshooting and Repairing

Administrative and Operational Task

- Given a scenario including a goal, identify how to use the NSX graphical user interface to achieve that goal.