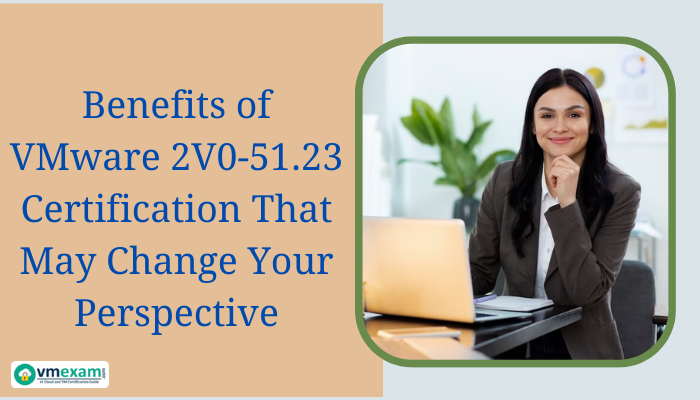 One such certification is the VMware 2V0-51.23 certification, which holds tremendous value in the IT industry. Let's delve into the world of VMware and discover the advantages that await you.
Benefits of Having VMware 2V0-51.23 Certification
Before we dive into the benefits, let's understand what VMware 2V0-51.23 certification entails. VMware is a leading virtualization and cloud computing technology company. The 2V0-51.23 certificate, also known as the VMware Horizon 8.x Professional Exam, is designed for IT professionals who desire to showcase their expertise in deploying and managing Horizon 8.x environments.
1. Career Improvement with VMware 2V0-51.23 Certification
Acquiring the VMware 2V0-51.23 certification can open doors to various career advancement opportunities. In the competitive IT job market, having this certification can significantly enhance your resume and set you apart from other candidates. Employers often look for certified professionals who can bring value to their organizations, and this certification demonstrates your commitment to ongoing learning and professional growth.
A recent survey by leading tech industry experts found that 82% of IT hiring managers prioritize certifications when evaluating job applicants. Having the VMware 2V0-51.23 certification prominently displayed on your resume can catch the attention of possible employers and increase your chances of landing interviews for coveted positions.
Moreover, the VMware 2V0-51.23 certification is not just a checkbox on your resume; it represents a fundamental skill set that employers seek. Horizon 8.x environments are widely used in enterprises to facilitate virtual desktop infrastructure and application virtualization. By obtaining this certification, you demonstrate your ability to manage these critical components, making you a valuable asset to any organization.
2. Increased Earning Potential
With advanced certifications like VMware 2V0-51.23, you can expect a unique increase in earning potential. Certified professionals are generally rewarded with better salary packages and benefits due to their specialized skill set. This certification validates your expertise in Horizon 8.x environments, making you eligible for higher-paying roles and positions with more essential responsibilities.
According to a salary survey conducted by Global Knowledge, VMware-certified professionals earn an average salary of 18% higher than their non-certified counterparts. Moreover, with the growing demand for skilled VMware professionals, the value of this certification is expected to rise further in the coming years.
3. Validation of Expertise with VMware 2V0-51.23 Certification
Obtaining the VMware 2V0-51.23 certification is challenging, as it needs in-depth knowledge and hands-on experience. The certification exam assesses your understanding of Horizon 8.x architecture, installation, configuration, and troubleshooting. By passing the exam, you demonstrate proficiency in these areas, showcasing your ability to handle complex tasks and challenges effectively.
As part of the certification preparation process, candidates often invest time in hands-on labs and real-world scenarios. This hands-on experience equips them with practical skills, ensuring their ability to efficiently handle Horizon 8.x environments.
The validation of your expertise through the VMware 2V0-51.23 certification not only boosts your confidence but also reassures employers and clients that you have the necessary skills to deliver successful projects and solutions.
4. Industry Recognition
VMware is a reputable and well-established company in the IT industry. A VMware certification can improve your credibility and reputation among your peers and employers. It signifies that you have met VMware's rigorous standards and can be trusted to handle critical IT projects efficiently and precisely.
Furthermore, the VMware 2V0-51.23 certification is part of the VMware Certified Professional (VCP) program, which is globally recognized and respected. Being a part of this program adds weight to your professional profile and opens doors to new opportunities within the vast network of VMware partners and customers.
5. Access to Exclusive VMware 2V0-51.23 Certification Resources
As a VMware 2V0-51.23 certified professional, you gain access to a wealth of exclusive resources and communities. These resources can include forums, knowledge bases, and training materials that keep you updated with the latest advancements in Horizon 8.x and other VMware technologies.
VMware's commitment to its certified community is commendable, and it actively engages with certified professionals through webinars, events, and user groups. These interactions provide insights into best practices, real-world challenges, and emerging trends, enabling you to stay at the forefront of the industry.
Such communities also allow you to network with like-minded professionals, exchange ideas, and learn from their experiences. This collaborative learning environment further enriches your knowledge and expertise in the field.
6. Opportunities for Specialization
VMware offers a wide range of certifications that cater to various aspects of IT, from cloud computing to network virtualization. By starting with the VMware 2V0-51.23 certification, you lay the foundation for further specialization in your chosen area.
For instance, after obtaining the 2V0-51.23 certification, you can explore other VMware certifications like VMware Certified Advanced Professional (VCAP) and VMware Certified Design Expert (VCDX) to deepen your knowledge in specific domains. They specialize in different VMware technologies positioning you as a well-rounded IT professional capable of handling diverse projects and challenges.
7. Enhanced Problem-Solving Skills
Preparing for the VMware 2V0-51.23 certification exam requires a deep understanding of Horizon 8.x concepts and practical applications. During this process, you develop excellent problem-solving skills and learn to troubleshoot complex issues efficiently.
The hands-on labs and real-world scenarios you encounter while preparing for the exam expose you to various daily challenges that IT professionals face. As you find solutions to these challenges, you hone your problem-solving abilities and become adept at handling critical situations with ease.
These enhanced problem-solving skills are not limited to Horizon 8.x environments but are transferable to other IT domains, making you a valuable asset across different IT projects.
8. Contribution to Organizational Success
As a Certified VMware professional, you contribute to the success of your organization by ensuring optimal performance, stability, and security of Horizon 8.x environments.
Horizon 8.x is widely used in enterprises to deliver virtual desktops and applications to end-users, enhancing productivity and flexibility. Your expertise in managing and maintaining these environments ensures employees have reliable access to the tools and resources needed to perform their roles efficiently.
Proactively addressing issues and optimizing the infrastructure contribute to seamless IT operations, directly impacting employees' productivity and satisfaction. Your efforts also translate into cost savings for the organization, as efficient virtualization reduces hardware requirements and energy consumption.
9. Global Opportunities
The VMware 2V0-51.23 certification is recognized and respected worldwide. This certification can be your ticket to global opportunities if you aspire to work internationally. Many multinational companies seek certified VMware professionals to manage their virtualization and cloud infrastructure, allowing you to work in diverse and exciting environments.
In addition to working with multinational corporations, VMware partners and cloud service providers often seek certified professionals to serve their global clientele. Your expertise in Horizon 8.x environments can make you an asset in these international collaborations, opening doors to new horizons and experiences.
Conclusion
In conclusion, obtaining the VMware 2V0-51.23 certification can be a game-changer for your IT career. It validates your expertise in Horizon 8.x environments and opens doors to new career opportunities and increased earning potential. Moreover, industry recognition, access to exclusive resources, and opportunities for specialization make it a highly desirable certification among IT professionals.
If you aim to excel in the ever-evolving world of information technology, consider embarking on the journey to become a VMware 2V0-51.23 certified professional. By doing so, you can confidently leave other websites behind and stand out as an English content writer with a profound understanding of VMware certifications.