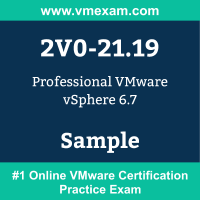 We have prepared Professional VMware vSphere 6.7 (2V0-21.19) certification sample questions to make you aware of actual exam properties. This sample question set provides you with information about the VCP-DCV 2020 exam pattern, question formate, a difficulty level of questions and time required to answer each question. To get familiar with VMware Certified Professional - Data Center Virtualization 2020 (VCP-DCV 2020) exam, we suggest you try our Sample VMware 2V0-21.19 Certification Practice Exam in simulated VMware certification exam environment.
To test your knowledge and understanding of concepts with real-time scenario based VMware 2V0-21.19 questions, we strongly recommend you to prepare and practice with Premium VMware VCP-DCV 2020 Certification Practice Exam. The premium VMware VCP-DCV 2020 certification practice exam helps you identify topics in which you are well prepared and topics in which you may need further training to achieving great score in actual VMware Certified Professional - Data Center Virtualization 2020 (VCP-DCV 2020) exam.
VMware 2V0-21.19 Sample Questions:
01. What must be done to apply a guest OS patch to an existing template?
a) upload patch to VUM
b) convert template to VM
c) use template wizard
d) revert to snapshot
02. A vSphere administrator needs to be alerted whenever a host power state changes. How can this be done with alarms?
a) Set condition to Show as Critical.
b) Enable Power Alarm in DCUI.
c) Enable DPM on the cluster.
d) Enable Send Email notifications.
03. The storage administrator has decided to implement NAS in a deployment. Which hardware acceleration API should be used to change the virtual disk file?
a) full file clone
b) reserve space
c) native snapshot support
d) write same
04. Which condition occurs when a storage device becomes inaccessible to the host and no paths to the device are available?
a) APD
b) ALUA
c) VMCP
d) SIOC
05. An administrator attempts to add a standalone host to an existing cluster. The standalone host contains a resource pool. What is a possible result of this action?
a) vCenter Server will put all host resources into a new folder, retaining the resource pool.
b) VCenter Server will put all host resources into a new data center, retaining the resource pool.
c) vCenter Server will put all host resources into the root of the cluster, destroying the resource pool.
d) vCenter Server will refuse admission to the cluster until the administrator manually deletes the resource pool.
06. Refer to the exhibit.
VM-A and VM-B are in a VM folder with permissions and role assignments:
- Role 1 can power on VMs
- Group A is granted Role 1 on VM folder
- Group B is granted Role 2 on VM-B
- User 1 is part of Group A and Group B
Which permission does User 1 have?
a) Power on VM A and B
b) Restart VM A and B
c) Restart VM A only
d) Power on VM B only
07. What is the minimum edition of vSphere needed to use host profiles?
a) vSphere Standard
b) vSphere Platinum
c) vSphere Essentials Plus
d) vSphere Enterprise Plus
08. A vSphere administrator has enabled vSphere Distributed Power Management (DPM) on a DRS cluster. The hosts are not entering standby mode even though there is enough available compute capacity.
Which feature should be enabled to ensure DPM functions correctly?
a) UEFI mode
b) vSphere HA
c) Wake on LAN
d) Proactive HA
09. An administrator is required to replace a storage array. The VM workloads require maximum uptime. Which feature should the administrator use to meet this requirement?
a) vSphere vMotion
b) Storage vMotion
c) vSphere Update Manager
d) vSphere Replication
10. When vCenter HA configuration is completed, which of the three nodes hosts the management IP?
a) Passive
b) Witness
c) Quorum
d) Active
Answers:
Question: 01




Answer: b

Question: 02




Answer: d

Question: 03




Answer: b

Question: 04




Answer: a

Question: 05




Answer: c

Question: 06




Answer: a

Question: 07




Answer: d

Question: 08




Answer: c

Question: 09




Answer: b

Question: 10




Answer: d
Note: Please update us by writing an email on feedback@vmexam.com for any error in VMware Certified Professional - Data Center Virtualization 2020 (VCP-DCV 2020) certification exam sample questions